Description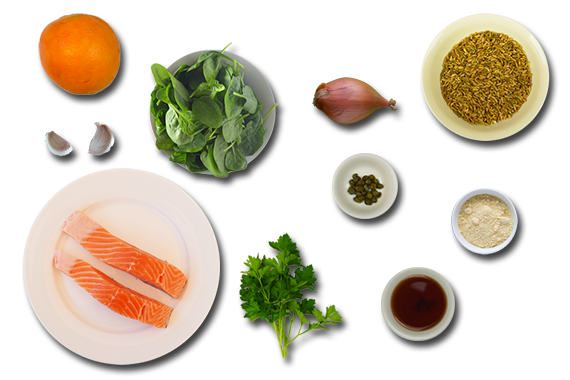 Ingredients
2 Salmon Fillets (Skin on)
0.66 Cups Farro (Cracked)
100 Grams Baby Spinach
1 Orange
1 Garlic Clove
1 Bunch Flatleaf Parsley
1 Tablespoons Ground Almonds
1 Shallot
1 Tablespoons Red Wine Vinegar
1.5 Tablespoons Baby Capers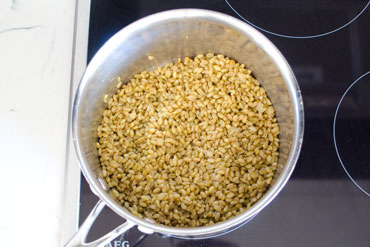 Cook Farro:
Rinse farro. Heat a medium pot of salted water (about 2 cups) to boiling on high. Once boiling, add the farro. Reduce heat and simmer covered, stirring occasionally for about 15 minutes, or until tender. Turn off the heat. Drain thoroughly and rinse under cold water then return to the pot.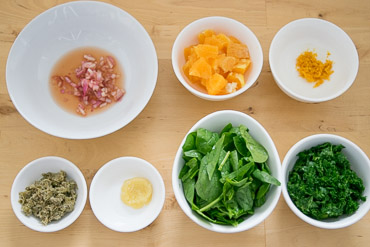 Prepare Ingredients:
Wash the fresh produce. Peel and mince the garlic; using the side of your knife, smash until it resembles a paste. Finely chop the capers. Finely chop the parsley leaves and stems. Using a peeler, remove the orange rind (or use a zester). Cut off and discard the remaining peel and pith; medium dice the orange. Roughly chop the spinach. Peel and mince the shallot to (you'll need about 1 tablespoon); place in a medium bowl with the red wine vinegar.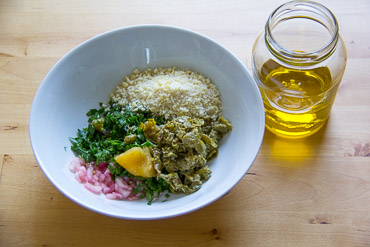 Make Salsa Verde:
While the farro continues to cook, combine the garlic paste, almonds, capers and parsley to the shallot-vinegar mixture. Stir in enough olive oil to create a rough paste; season with salt and pepper to taste.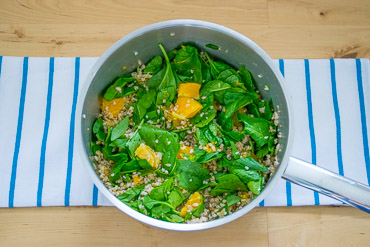 Make Farro Salad:
Add the orange, orange zest and spinach to the pot of cooked farro. Drizzle with a little olive oil (if desired) and stir to thoroughly combine; season with salt and pepper to taste. Set aside in a warm place.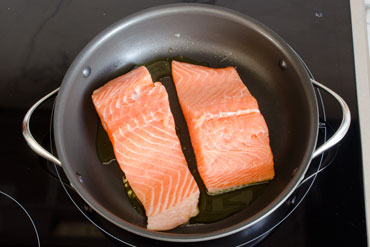 Cook Salmon Fillets:
Pat the salmon fillets dry with paper towel and season with salt and pepper on both sides. In the same pan, heat 2 teaspoons of olive oil on medium-high until hot. Add the fillets, skin sides down. Cook 2 to 3 minutes per side, or until browned and cooked to your desired degree of doneness.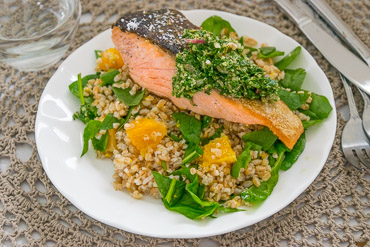 You Plate It:
Divide the farro salad and cooked salmon fillets between dishes. Top with salsa verde. Enjoy!