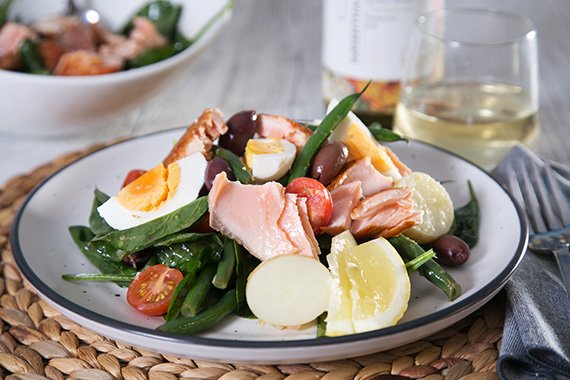 Salmon Nicoise Salad with Lemon & Shallot Vinaigrette
Prep time:

30

minutes

Calories: 410
Salade niçoise (la salada nissarda in the Niçard dialect of the Occitan language), is a salad that originated in the French city of Nice. It is traditionally made of tomatoes, hard-boiled eggs, olives, anchovies. Warmer months are the season for stringless green beans and we have decided to use them to make this salad crisp and light. Enjoy!
Ingredients
120 g of Green Beans

200 g of Chat Potatoes

2 of Salmon Fillets (Skinless)

1 of Lemon

1 75g Pack of Baby Spinach

60 g of Kalamata Olives (pitted)

1 of Shallot

2 of Egg (pantry)

100 g of Cherry Tomatoes

1 Tbsp of Baby Capers
Recipe
Cook Potatoes & Green Beans:
Cut
potato
into bite-sized pieces, place in pot and cover with water. Bring to the boil and cook 8-10 minutes, or until tender. Trim
green beans
and with 3-4 minutes remaining, add
green beans
to the pot of
potatoes.
Cook until
beans
are bright green. Transfer
beans and potatoes
to a separate bowl, leaving the pot of water boiling.
Cook Eggs (Optional):
Add the
eggs
to the pot of boiling water and cook for exactly 7 minutes. Drain thoroughly and rinse under cold water for 30 seconds to 1 minute to stop the cooking process. When cool enough to handle, carefully peel the cooked
eggs
. Cut into quarters; season with salt and pepper.
Cook Salmon:
Pat dry the
salmon
with paper towel and season with salt and pepper on both sides. In a large non-stick pan, heat oil on medium. Carefully add the
salmon
to the hot pan, and cook for about 5 minutes, or until the
salmon
is cooked to your liking. After 5 minutes, turn the
salmon
over and cook for 1 minute more. Transfer
salmon
to a plate to rest.
Prepare Vinaigrette:
Zest the
lemon
. Small dice the
shallot
, then add
2-3 Tbsp
to a small bowl. Add
lemon zest
, then squeeze in
1 Tbsp lemon juice
. Gradually stir in
2 Tbsp olive oil
and season to taste.
Dress Salad:
Cut
cherry tomatoes
and
olives
in half. In a large bowl combine
baby spinach, potatoes, green beans, tomatoes
and
olives
with
vinaigrette.
Toss well to coat.
You Plate It:
Divide the
salad
between plates. Top with
salmon, capers
and
egg
(optional). Enjoy!