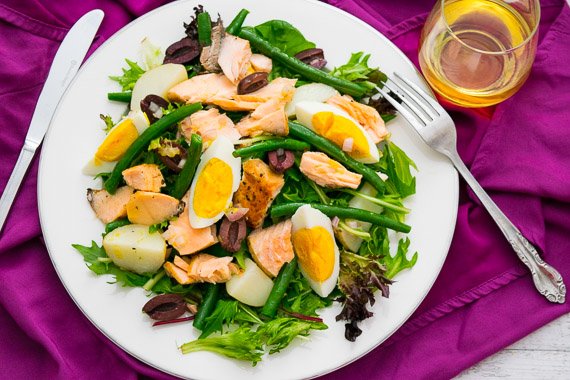 Salmon & Nicoise Salad with Lemon-Shallot Vinaigrette
Prep time:

30

minutes

Calories: 410
Salade niçoise (la salada nissarda in the Niçard dialect of the Occitan language), is a salad that originated in the French city of Nice. It is traditionally made of tomatoes, hard-boiled eggs, olives, anchovies. Warmer months are the season for stringless green beans and we have decided to use them to make this salad crisp and light. Enjoy!
Ingredients
120 Grams of Green Beans

200 Grams of Chat Potatoes

2 Salmon Fillets (Skinless)

1 Lemon

1 75 Gram Pack of Mixed Lettuce

60 Grams of Kalamata Olives (pitted)

1 Shallot

2 Egg (pantry)

100 Grams of Cherry Tomatoes
Recipe
Cook Potatoes & Green Beans:
Wash the fresh produce. Heat a medium pot of salted water to boiling on high. Cut the potatoes into bite-sized pieces. Cut off the ends of the green beans. Add the potatoes to the boiling water. Cook 8 to 10 minutes, or until tender when pierced with a fork. With 3 to 4 minutes remaining, carefully add the green beans to the pot of boiling water. Cook until the beans are bright green and slightly tender. Using a slotted spoon or strainer, transfer the cooked green beans and potatoes to a separate medium bowl, leaving the pot of water boiling.
Cook Eggs (Optional):
Add the eggs to the pot of boiling water. Cook for exactly 7 minutes. Drain thoroughly and rinse under cold water for 30 seconds to 1 minute to stop the cooking process. When cool enough to handle, carefully peel the cooked eggs. Cut into quarters; season with salt and pepper.
Cook Salmon:
Pat dry the salmon with paper towel and season with salt and pepper on both sides. In a large non-stick pan, heat oil on medium. Carefully add the salmon to the hot pan, and cook for about 5 minutes, or until the salmon is cooked to your desired degree of doneness. Tip: Loosely cover the pan with foil to help the salmon cook faster. After 5 minutes, turn the salmon over and cook for 1 minute more. Transfer to a plate and loosely cover with foil.
Prepare Vinaigrette:
Zest the lemon. Small dice the shallot, then add 2-3 TBS to a small bowl. Add lemon zest, then squeeze in 1 TBS lemon juice. Gradually stir in 2 TBS olive oil and season to taste.
Dress Potatoes & Beans:
Divide half the vinaigrette between the cooked potatoes and green beans. Toss to coat.
You Plate It:
Divide the mixed lettuce between plates. Drizzle with as much of the remaining vinaigrette as you'd like. Top with the dressed potatoes and green beans, eggs, olives and tomatoes (slicing in half as you add). Top with salmon. Enjoy! (NOTE: We have updated this recipe to make it more authentic - That's why you don't see any tomatoes in the pic 😉 )