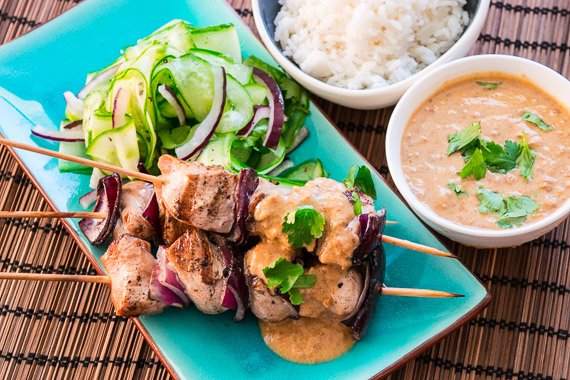 Satay Chicken with Delicious Peanut Sauce & Fresh Cucumber Salad
Prep time:

25

minutes

Calories: 700
From street carts to five-star restaurants, satay is everywhere in Indonesia. Different regions are famous for different styles, and here you will create one of the more classic preparations: skewered chicken served with rich, flavourful peanut sauce and paired with a cucumber salad. Don't forget to share the moment #youplateit on Instagram or Facebook.
Ingredients
3 of Chicken Thighs (skinless)

2 of Lebanese Cucumber

3 x 5g Pack of Soy Sauce

1 Small Bunch of Coriander

1 of Red Onion

3⁄4 Cup of Jasmine Rice

1⁄3 Cup of Satay Sauce

6 of Wooden Skewers 10"

1 of Green Capsicum (small)
Recipe
Prepare Ingredients:
If using your BBQ turn it on now. Wash the fresh produce. Cut the cucumber into thin slices or chunks. De-seed capsicum and cut into 2 - 3 cm pieces. Pick the coriander leaves; discard stems and roughly chop the leaves. Peel and thinly slice
1
⁄
4
of the red onion, cut the remainder into 2 - 3 cm pieces. Dice the chicken into 2 - 3 cm chunks. Place the diced chicken in a bowl with the soy sauce and toss to thoroughly coat; set aside to marinate. (NOTE: A customer suggested to add in some more veg. That's why you don't see any capsicum in the pic 😉 )
Cook Rice:
In a medium pot, bring 1
1
⁄
3
cups water to a boil. Stir in the rice; cover and reduce the heat to low. Simmer for 15 minutes until all of the water is absorbed. Taste the rice; if it is still too firm, add a few more tablespoons of water. Cover the pan and let the rice absorb the water off of the heat. Fluff the finished rice with a fork.
Cook Chicken:
While the rice cooks, thread the marinated chicken, diced red onion and capsicum onto the skewers. In a large non-stick pan (or BBQ), heat oil on medium-high until hot. Add the chicken skewers (working in batches if necessary) and cook 3 - 4 minutes per side, or until browned and cooked through. Transfer the chicken to a plate. (NOTE: We had a suggestion from a customer to add in some more veg on this recipe. That's why you don't see any green capsicum in the pic 😉 )
Prepare Cucumber Salad:
In a medium bowl, combine the cucumber, as much of the sliced red onion as you'd like (you may have extra), half the coriander and a drizzle of olive oil. Toss to coat and season with salt and pepper to taste. Set aside to marinate.
You Plate It:
Divide the cooked rice and cucumber salad between plates. Place the finished chicken skewers on top of the rice. Garnish with the remaining coriander. Serve with the satay sauce on the side for dipping. Season with salt and pepper to taste. Enjoy!