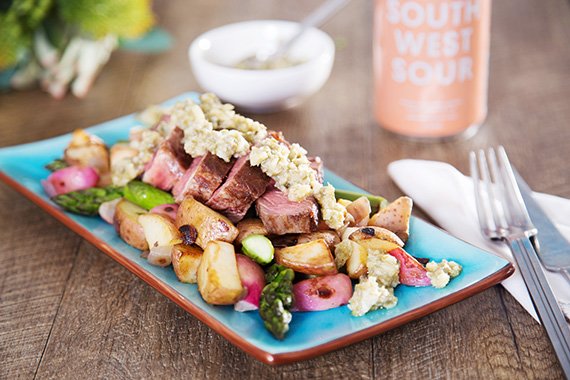 Scotch Fillet Steak & Salsa Verde with Red Potato, Asparagus & Radish Hash
Prep time:

35

minutes

Calories: 630
In this recipe you will use a delicious choice of vegetables: red potatoes, radish and asparagus. Succulent slices of delicious steak are matched with an Italian style salsa verde. Enjoy with a Sauvignon Blanc where the citrusy and unoaked flavours will compliment the asparagus. Share the moment #youplateit on Instagram and Facebook. Enjoy! #nomorewhatsfordinner.
(Tip:
If you flip your steaks multiple times, they'll cook more evenly.)
Ingredients
300 Grams of Red Potatoes

4 Radish

150 Grams of Asparagus

1 Red Onion

2 Garlic Clove

1 Small Bunch of Flatleaf Parsley

2 Tablespoons of Baby Capers

15 Grams of Slivered Almonds

20 Grams of Parmesan Cheese

350 Grams of Scotch Fillet Steak (Thick-Cut)
Recipe
Prepare Ingredients:
Wash the fresh produce. Peel and thinly slice the garlic. Snap off and discard the tough, woody ends of the asparagus stems; cut into 2-3 cm pieces on an angle. Medium dice the onion. Cut the potatoes into 1cm bite-sized pieces. Cut the radishes into wedges.
Start Hash:
Heat a large non-stick pan on medium-high until hot. Add the potatoes. Cook, stirring occasionally, 6 to 8 minutes, or until lightly browned. Add the radishes and cook, stirring occasionally, 2 to 3 minutes, or until the radishes and potatoes are tender when pierced with a fork.
Finish Hash:
Add the asparagus, onion and garlic to the pan; season with salt and pepper. Reduce the heat to medium and cook, stirring occasionally, 5 to 7 minutes, or until the asparagus is bright green and the onion is softened. Remove from heat, season with salt and pepper to taste and cover to keep warm.
Cook Steak:
Pat dry steak with paper towels and season with salt on both sides. In the same pan, heat olive oil on medium until hot. Add steak and cook until browned on outside and medium rare, about 4 - 6 minutes per side. Set aside to rest for 5 minutes, then thinly slice against the grain. (TIP: We supply our meat as a thick-cut piece, as we think it cooks much better as a bigger piece. You can always cut into thinner steaks if preferred, but bear in mind you will have to keep a closer eye on it to reach your desired doneness).
Make Salsa Verde:
While the steak rest, finely chop the parsley leaves and stems. Roughly chop the capers and almonds. In a bowl, combine the parsley, capers, almonds and parmesan. Slowly stir in 2 TBS of olive oil, or enough to create a paste; season with salt and pepper to taste.
You Plate It:
Find the lines of the rested steak; thinly slice against the grain. Divide the finished hash and sliced steak between dishes. Top with the salsa verde. Enjoy!