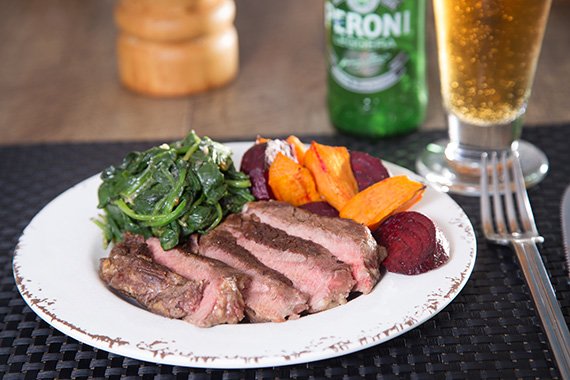 Scotch Fillet Steak with Roasted Beets & 'Creamed' Spinach
Prep time:

35

minutes

Calories: 590
In this dish you will enjoy succulent scotch fillet steak with a "creamed" baby spinach that you will prepare quickly with garlic, butter and parmesan cheese. For an extra touch, we're mixing in the juices from the pan-seared steaks, infusing the baby spinach with deep savoury flavour. Red beetroots and baby sweet potato complete the meal, perfectly seasoned and roasted in the oven until delicately crispy. Enjoy!
Ingredients
350 g of Scotch Fillet Steak (Thick-Cut)

400 g of Red Beetroot

2 of Garlic Clove

1⁄5 Cup of Parmesan Cheese

2 Tsp of Butter (pantry)

500 g of Sweet Potato (Small)
Recipe
Prepare Ingredients:
Preheat the oven to 230°C. Wash the fresh produce. Remove steak from the refrigerator to bring to room temperature. Peel then cut the beetroot in half then into 1
1
⁄
2
cm wedges. Cut the sweet potato. Peel and mince the garlic.
Roast Beetroot & Sweet Potato:
Place the beetroot and sweet potato on a lined baking tray. Drizzle with olive oil and season with salt and pepper, toss to coat. Arrange in a single, even layer (over 2 trays if necessary) and roast 20 - 22 minutes, or until tender when pierced with a fork. Remove from the oven and transfer to a serving dish. (TIP: the beetroot may need a little extra time in the oven, so give it an extra 5-10 minutes if desired).
Start 'Creamed' Spinach:
In a large non stick high sided pan (or pot), heat olive oil on medium until hot. Add the baby spinach and a dash of water; season with salt and pepper. Cook, stirring frequently, 3 - 5 minutes, or until completely wilted. (If necessary, work in batches.) Remove from heat and set aside.
Sear Steak:
Season steak on both sides with salt. Heat olive oil in a pan over medium-high heat. When oil is shimmering, add steak and cook 2 - 3 minutes before flipping. Flip 3 times for a total cooking time of 10 - 12 minutes (or to your preferred doneness). Remove from pan and allow to rest, leaving any browned bits in the pan. (TIP: we supply our meat as a thick-cut piece, as we think it cooks much better as a bigger piece. You can always cut into thinner steaks if preferred, but bear in mind you will have to keep a closer eye on it to reach your desired doneness).
Finish 'Creamed' Spinach:
While the steak rests, heat the same pan used for the steak on medium until hot (If the pan seems dry, add olive oil.) Add as much garlic as desired and cook, stirring frequently, 30 seconds - 1 minute, or until fragrant. Add the baby spinach, parmesan, and butter. Cook, stirring frequently, 3 - 4 minutes, or until thoroughly combined and heated through. Season with salt and pepper to taste. Transfer to plates.
You Plate It:
Once rested, slice steak to your desired thickness. Add any juices from the cutting board to the baby spinach; stir to combine. Serve with 'creamed' spinach and roasted vegetables on the side. Enjoy!