Description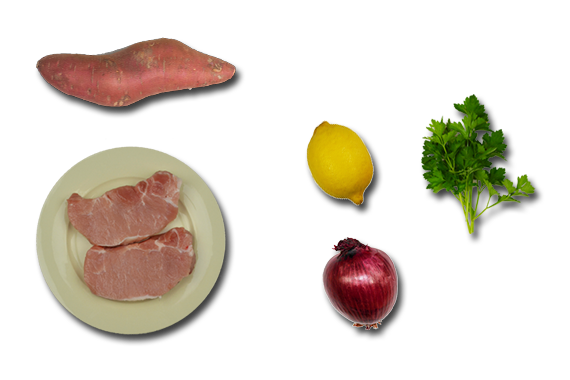 Ingredients
2 Pork Loin Chops, boneless
1 Lemon
1 Red Onion (small)
500 Grams Sweet Potato (small)
1 Small Bunch Flatleaf Parsley
2 Tablespoons Butter (pantry)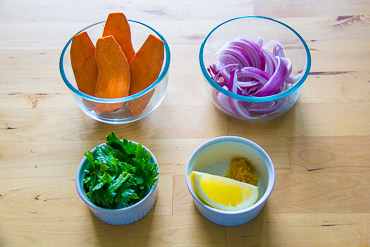 Prepare Ingredients:
Preheat the oven to 200°C. Using a peeler, remove lemon rind; mince to get 2 teaspoons of zest (or use a zester). Quarter and deseed the lemon. Peel, halve and thinly slice the onion. Halve the sweet potatoes lengthwise, then cut again crosswise. Pick the parsley leaves; discarding stems.
Roast Sweet Potatoes:
Place the sweet potatoes on a lined baking tray. Drizzle with olive oil and season with salt and pepper; toss to coat. Arrange in a single, even layer, cut sides down, and roast for about 20 minutes, or until tender when pierced with a fork. Remove from the oven and transfer to a large bowl.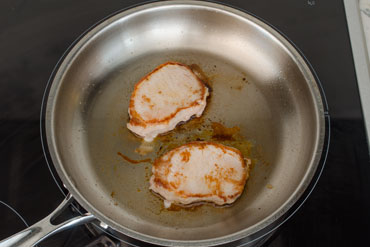 Cook Pork Chops:
Once the sweet potatoes have roasted for about 15 minutes, pat dry pork chops with paper towel; season with salt and pepper on both sides. In a large pan, heat 2 teaspoons of olive oil on medium-high until hot. Add the seasoned pork and cook 3 to 4 minutes per side, or until browned and cooked through. Transfer to a plate, leaving any browned bits (or fond) in the pan. Loosely cover the cooked pork with foil and set aside to rest for at least 5 minutes.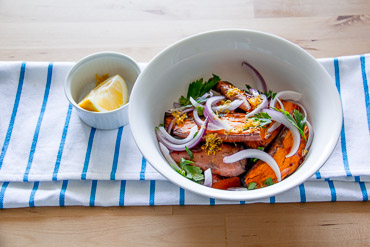 Dress Sweet Potatoes:
While the pork rests, to the bowl of roasted sweet potatoes, add the lemon zest, parsley, as much of the onion as you'd like and the juice of 2 lemon wedges. Drizzle with a little olive oil and toss to coat; season with salt and pepper to taste.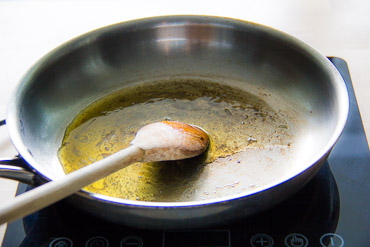 Make Pan Sauce:
Heat the pan of reserved fond on medium until hot. Add the juice of the remaining 1-2 lemon wedges and ¼ cup of water. Cook, stirring occasionally and scraping up any browned bits from the bottom of the pan, 2 to 3 minutes, or until the liquid is reduced in volume by about half. Add the butter; season with salt and pepper. Cook, stirring occasionally, 30 seconds to 1 minute, or until thoroughly combined. Remove from heat; season with salt and pepper to taste.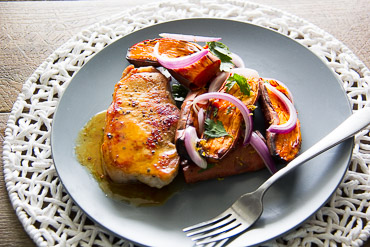 You Plate It:
Divide the cooked pork and dressed sweet potatoes between plates. Top each with a few spoonfuls of the pan sauce. Enjoy!