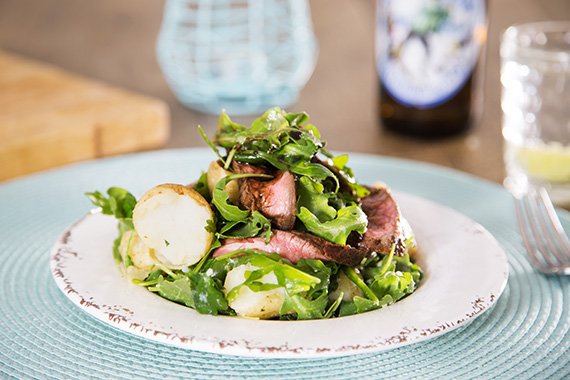 Seared Scotch Fillet Steak with Asparagus, Baby Potatoes & Capers
Prep time:

20

minutes

Calories: 573
This is a simple, yet delicious summer dish. Simply seared steak (done to your liking) together with sharp rocket, creamy potatoes, asparagus, capers and balsamic vinegar. We think this would pair great with a dark ale, or a slightly tart, acidic red such as a Dolcetto. Share the moment you create at #youplateit on Instagram.
Ingredients
300 Grams of Scotch Fillet Steak (Thick-Cut)

400 Grams of Chat Potatoes

1 Teaspoons of Dijon Mustard

1 Tablespoons of Baby Capers

1 Tablespoons of Balsamic Vinegar

1 Small Bunch of Tarragon

1 75 Gram Pack of Rocket & Baby Spinach

110 Grams of Asparagus
Recipe
Boil Potatoes & Asparagus:
Place potatoes in a pot and cover with water. Bring to the boil with a lid on, and cook for 15-18 minutes, until tender. Cut woody ends off asparagus, and discard. Cut asparagus into 3 cm pieces. Add asparagus to the boiling water with potatoes in the last 3 minutes of cooking. Drain and set aside to cool slightly. (NOTE: We had a suggestion from a customer to add in some more greens on this recipe, so we listened. That's why you don't see any asparagus in the pic 😉 )
Sear Steak:
Pat dry steak on a paper towel. Season steak on both sides with salt. Heat olive oil in a large pan (enough to cover base) over medium-high heat. When oil is shimmering, add steak and cook 2-3 minutes before flipping. Flip steak 3 times for a total cooking time of 10-12 minutes (or to your preferred doneness). Remove from pan and allow to rest. (TIP: we supply our meat as a thick-cut piece, as we think it cooks much better as a bigger piece. You can always cut into thinner steaks if preferred, but bear in mind you will have to keep a closer eye on it to reach your desired doneness).
Prepare Salad:
Remove tarragon leaves, discarding stems and finely chop. Cut the still warm potatoes in half (we just broke them up with our hands) and toss with the asparagus, baby spinach & rocket, mustard, capers, vinegar, tarragon and 2 TBS extra virgin olive oil. Season to taste with salt and pepper.
Slice Steak:
Slice steak against the grain into thin strips, to your desired thickness.
You Plate It:
Add steak to salad and divide between plates. Alternatively, divide salad amongst plates and top with sliced steak. Enjoy!