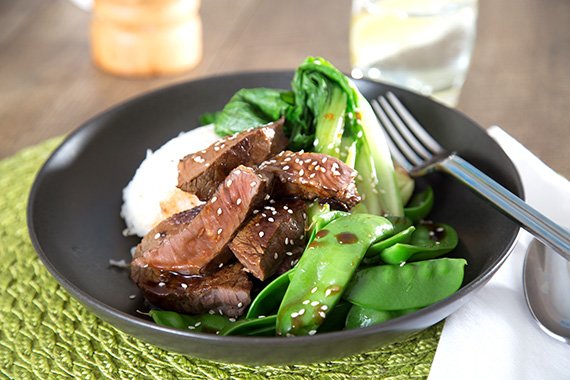 Sesame Beef with Snow Peas & Pak Choy over Jasmine Rice
Prep time:

20

minutes

Calories: 470
This quick sesame beef recipe is the perfect healthy midweek meal. Delicious beef flavoured with sesame and garlic, served with crunchy snow peas, pak choy and fluffy rice, all within 20 minutes. What's not to love? Share your #youplateit glory with us on Instagram.
Ingredients
300 Grams of Porterhouse Steak (Thick-Cut)

2 Garlic Clove

2 Teaspoons of Sesame Oil

100 Grams of Snow Peas

0.75 Cups of Jasmine Rice

1 Tablespoons of Sweet Chili Sauce

0.25 Cups of Soy Sauce (GF)

1 Tablespoons of White Sesame Seeds

2 Pak Choy
Recipe
Cook Rice:
In a medium pot, bring 1⅓ cup water to a boil. Stir in the rice; cover and reduce the heat to low. Simmer for 15 minutes until all of the water is absorbed. Taste the rice; if it is still too firm, add a few more tablespoons of water. Cover the pot and let the rice absorb the water off of the heat. Fluff the finished rice with a fork.
Marinate Meat:
Pat dry steak with paper towel. Peel and mince garlic. In a bowl, combine garlic, sesame oil and 1 TBS soy sauce. Add steak and coat.
Cook Meat:
Heat olive oil on medium-high until hot. Add the seasoned steak. Cook 2 - 3 minutes before flipping. Flip 3 times for a total cooking time of 10 - 12 minutes (or to your preferred doneness). Remove from pan and allow to rest.
Blanche Greens:
Put a pot of salted water on to boil. Wash the fresh produce. Trim stems off the snow peas and peel away their strings. Cut pak choy in half lengthwise. Add greens to boiling water and cook for 1 - 2 minutes, until just tender (or to your liking). Drain.
You Plate It:
Combine remaining soy sauce with sweet chili in a small bowl. Divide rice and greens between plates. Slice steak and serve on top, dressing with as much of the soy/sweet chili as desired. Garnish with sesame seeds. Enjoy!