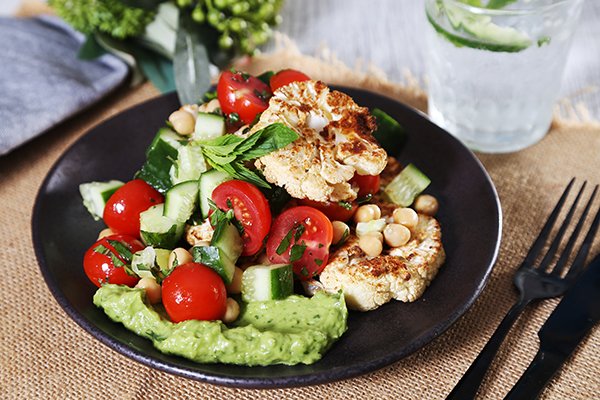 Shawarma Cauli Steak with Chickpea Salad and 5 Minute Coriander Avo Chutney
Prep time:

30

minutes

Calories: 603
If you've never had cauliflower "steak," it's exactly what it sounds like: cauliflower sliced lengthwise into "steaks," seasoned and either grilled or roasted (we went for roasted) until tender on the inside and crispy on the outside. You can grill on the BBQ in warmer months, to both keep the heat outside and add an extra level of smokiness. Enjoy!
Ingredients
1 of Cauliflower (small)

3 Tbsp of Maple syrup

1 of Avocado (small)

1 Bunch of Coriander

1 of Garlic Clove

2 1⁄2 Tsp of Shawarma Spice Mix

90 g of Chickpeas

120 g of Cherry Tomatoes

1 of Lebanese Cucumber

1 Small Bunch of Mint

1 Tbsp of Lemon Juice
Recipe
Prepare Cauliflower:
Preheat oven to 180°C. Slice
cauliflower
into thick slices or
"steaks"
and place on a baking tray lines with baking paper.
Reserve 1 Tbsp maple syrup
and set aside for chutney. Drizzle
1⁄2
of the
remaining maple syrup
on one side and sprinkle with
spice mix.
Turn steaks over and repeat on other side. Season with salt and pepper to taste.
Cook Cauliflower
Roast
cauliflower
for 20-25 minutes until caramelised and tender when a knife is inserted into the thickest part.
Make Chutney:
Meanwhile; discard
coriander
roots and roughly chop stems and leaves. Peel
garlic.
Place both in a jug or blender bowl with the
avocado, lemon juice (to taste),
salt and pepper and add
reserved maple syrup to taste (see tip)
. Blend with a stick blender or food processor. Taste and adjust seasoning.
Prepare Salad:
Drain
chickpeas.
Dice
cucumber,
slice
cherry tomatos
in half and combine with
chickpeas.
Pick
mint
leaves, discarding stalks. Finely chop
mint
and add to
salad,
season with olive oil, salt and pepper.
You Plate It:
Place
cauliflower
steaks on serving plate and spoon over
chutney,
add
salad
and serve. Garnish with any remaining
mint.