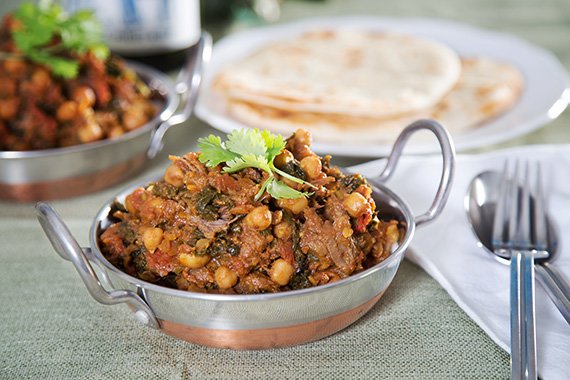 Slow Cooked Beef Curry with Chickpeas, Kale & Na'an
Prep time:

8

hours

Calories: 790
This
slow cooker beef curry
will melt in your mouth. Packed with kale, chickpeas and lentils, the texture and flavour are matched only by it's nutritiousness.
Important Note:
This is a
'slow cook'
recipe, so it must be started in the morning. You can also cook in a low oven, around 120°C, in an oven tray covered with foil for 8 hrs.
Ingredients
350 Grams of Casserole Steak

3 Tablespoons of Madras Curry Paste

100 Grams of Chickpeas

25 Grams of Split Red Lentils

0.33 Bunch of Kale

1 Cinnamon Stick

1 Brown Onion

1 Teaspoons of Cumin

1 2 pack of Naan

1 Small Bunch of Coriander

1 400 Gram Pack of Diced Tomatoes
Recipe
Prepare Ingredients:
Wash the fresh produce. Peel and medium dice the onion. De-stem the kale and roughly chop leaves. Pick the coriander leaves (reserving for garnish) and roughly chop the stems (discarding the roots).
Add Ingredients To Slow Cooker:
Pat dry the beef with paper towel. Season the beef with salt and pepper to taste and transfer to the slow cooker. Add the tinned tomatoes, ½ tin of water and madras curry paste over the beef. Add onion, cinnamon stick, cumin, lentils, coriander stems, kale and chickpeas. Mix well to combine. Cover and cook in slow cooker on LOW for 8 to 10 hours. (TIP: If you are organised enough, this step can be done the night before, covered and kept in the fridge overnight for the flavours to develop further before cooking...)
Heat Na'an:
Preheat oven to 200°C. Wrap the na'an in foil and place directly on the oven rack, and heat for about 5 minutes, or until warmed through and soft.
You Plate It:
Remove cinnamon stick from the curry. Add coriander leaves (keeping a few to garnish) to the curry and give it a good stir before dividing between bowls. Taste and season with salt and pepper as needed. Serve na'an alongside and garnish with reserved coriander leaves. Enjoy!