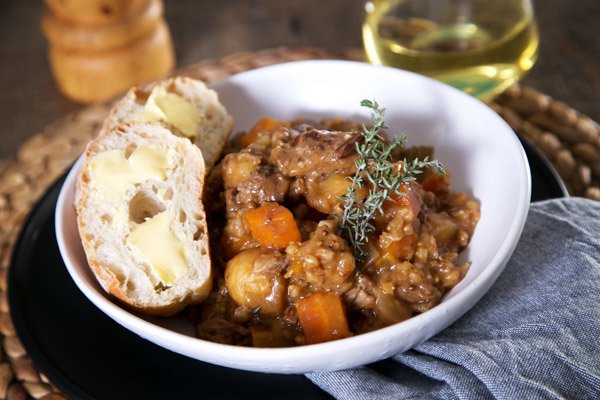 Slow Cooked Beef & Pearl Barley Stew with Vegetables & Thyme
Prep time:

8

hours

30

minutes

Calories: 691
Slow cooked
beef stew - what's not to love? With a special blend of ingredients in our You Plate It stew base and spice mix, it has a lovely depth of flavour. Not to mention, once you put it in the slow cooker, it's pretty much set and forget. Winning!
Important Note:
This is a
'slow cook'
recipe, so it must be started in the morning. You can also cook in a low oven, around 120°C, in an ovenproof dish covered with foil for 8 hrs.
Ingredients
1 of Brown Onion

1 of Carrot

1 Stalk of Celery

1 of Parsnip

90 g of Pearl Barley

2 of Garlic Clove

300 g of Casserole Steak (Diced)

1 Small Bunch of Thyme

1 1 Pack of Ciabatta Panini (150g)

100 g of YPI Beef Stew Base

200 g of Chat Potatoes

2 Tsp of YPI Stew Spice Mix
Recipe
Prepare Ingredients:
Peel and dice
3⁄4 of the
onion.
Peel and mince
garlic.
Cut
potato
and
parsnip
into 2cm chunks. Medium dice
carrot
and
celery.
Pat
beef
dry on paper towel and dust in
stew spice mix
until thoroughly coated.
Brown Beef:
In a pan, heat olive oil over medium high heat. Add dusted
beef
and sear for 3-4 minutes, until
beef
is browned all over.
Add Ingredients to Slow Cooker:
Add the
beef, onion, garlic, potatoes, celery, carrot, parsnip, thyme, stew base, pearl barley
and
2 cups water
to the
slow cooker
and give it a good stir to coat.
Turn the slow cooker on and cover, cooking on low for 6-8 hours.
You Plate It:
Preheat the oven to
200°C.
Remove
thyme
stalks from the
slow cooker
and turn off. Place
bread
in the oven straight on the rack for 5 minutes, until warmed through. Slice as desired. Divide the
beef stew
between bowls, serve with
warmed bread
on the side and. Enjoy!