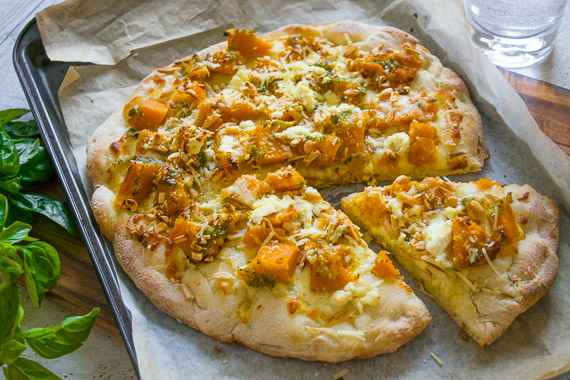 Smashing Pumpkin with Fetta Cheese Pizza Inspired by The Golden Greek - Theo Kalogeracos
Prep time: 25
Calories: 630
We present another smash hit from The Golden Greek and the very popular Theo & Co Pizzeria - find them in Leederville or East Vic Park! With 3 cheeses and a healthy serve of sweet roast pumpkin, there is much to love about this recipe. Share the moment #youplateit on Facebook or Instagram.
Ingredients
1 Pizza Base

90 Grams of Mozzarella (Grated)

40 Grams of Cashew Nut Pieces

300 Grams of Kent Pumpkin

30 Grams of Whipping Cream

35 Grams of Fetta Cheese

1 Garlic Clove

2 Tablespoons of Parmesan Cheese

2 Tablespoons of Pesto
Recipe
Preheat Oven:
Preheat oven to 250°C until nice and hot. Spread grated mozzarella over the pizza base.
Roast Pumpkin:
Dice pumpkin into 1 cm cubes. Place on a lined baking tray and drizzle lightly with olive oil. Season with salt and pepper and toss to thoroughly coat. Place in the hot oven and roast 10 to 15 minutes, or until golden brown and tender when pierced with a fork.
Add Pumpkin & Cashew Nuts:
When pumpkin is cooked, mix with pesto then add to pizza and sprinkle over cashew nuts, spreading evenly.
Add Garlic Sauce:
Peel and mince the garlic. Add to the cream, then drizzle over the garlic sauce.
Add Fetta & Parmesan:
Scatter fetta and ¾ of the parmesan over pizza, crumbling as you add. Add pizza to the oven, cook for 10 to 12 minutes until the base is browned and crisp or done to your liking.
You Plate It:
When the pizza is cooked, remove from oven. Sprinkle with remaining parmesan and serve hot. Enjoy!