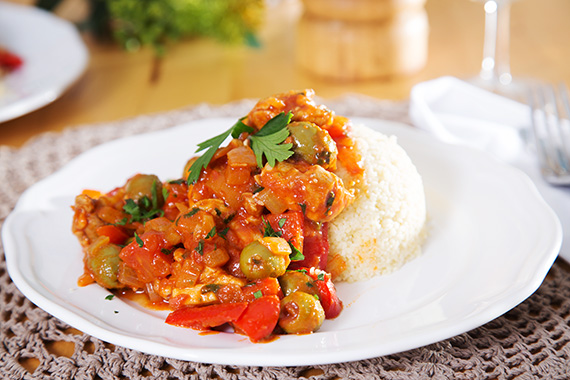 Spanish Style Chicken Casserole Inspired by Neil Perry
Prep time: 35
Calories: 510
This dish is an easy and super tasty midweek meal. We adore the smoky flavour of paprika, and in this dish it matches perfectly with the flavours of capsicum and green olives. Cook this Spanish style chicken casserole and share your creation on Facebook or Instagram #youplateit Happy Cooking.
Ingredients
3 Chicken Thighs (skinless)

1 Brown Onion

1 Garlic Clove

1.5 Teaspoons of Sweet & Smoked Paprika

1 Red Capsicum (small)

0.25 Cups of White Wine Vinegar

1 400 Gram Pack of Diced Tomatoes

1 Tablespoons of Tomato Paste

60 Grams of Green Olives (pitted)

1 Small Bunch of Flatleaf Parsley

0.5 Cups of Couscous
Recipe
Prepare Ingredients:
Wash the fresh produce. Dice capsicum into 1.5 cm pieces. Peel and mince the garlic. Medium dice the onion. Pick parsley leaves and roughly chop, discarding stems. Pat dry chicken with paper towel, then cut into bite size pieces.
Add Vegetables & Boil Kettle:
In a deep sided pan, heat oil on medium-high heat. Add the onion, garlic, paprika, some sea salt and the sliced capsicum. Cook for about 4 minutes, or until soft. Boil kettle for step 4.
Simmer Casserole:
Add the white wine vinegar and ¼ cup of water. Cook for 2 minutes, or until slightly reduced. Add ½ cup of the diced tomatoes you will have remainder, chicken and the tomato paste. Stir well and cook for 2 minutes. Gently simmer, covered for at least 20 minutes.
Prepare Couscous:
In the meantime, add the couscous to a medium bowl and enough boiling water to just cover the couscous, then pop a plate or lid on top and leave to fluff up. Fluff the finished couscous with a fork until well combined. Season with salt to taste.
Finish Casserole:
Remove lid, increase the heat slightly and cook for a further 10 minutes to reduce the sauce. Add the olives and some parsley reserving some for garnish and cook for a further 1 minute.
You Plate It:
Remove from the heat. Divide between plates and serve with couscous alongside. Add a good grind of black pepper and garnish with reserved parsley. Enjoy!