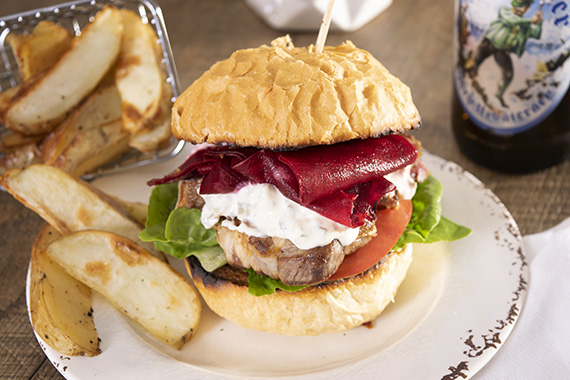 Steak, Beetroot & Blue Cheese Burger with Pickled Beetroot & Wedges
Prep time: 25
Calories: 700
This steak burger with tangy beetroot and a creamy blue cheese sauce will go down a treat in your household - it is fast becoming a favourite in ours too! Who needs greasy fast food burgers, when you can create this beauty in your own home? Share your moment on Instagram and make your friends jealous! #youplateit
Ingredients
300 Grams of Porterhouse Steak (Thick-Cut)

2 Hamburger Buns

1 Baby Cos Lettuce

1 Tomato

20 Grams of Blue Cheese

3 Tablespoons of Mayonnaise

1 3 Gram Pack of Sugar

1 Pickles

2 Tablespoons of White Wine Vinegar

2 Potatoes (Select)

1 Red Beetroot

1 Red Onion
Recipe
Cook Wedges:
Preheat oven to 220°C. Cut the potatoes into 1 cm thick wedges. Add to a lined baking tray, then drizzle with olive oil and season with salt. Roast the potatoes for 25 to 30 minutes, or until golden and cooked through
Pickle Beetroot:
Peel and slice beetroot and ½ of the onion you will have leftover as thin as you can. Tip: You can use a mandolin if you have one. Combine vinegar with ¼ cup of water and heat we used the microwave on high for 45 seconds and add sugar, stirring to dissolve. Add sliced beetroot and onion to a bowl and pour over vinegar-water mix, gently stirring to separate the layers of beetroot and set aside to lightly pickle.
Cook Steak:
Pat dry steak with paper towel and season both sides with salt. Heat olive oil in a pan over medium-high heat. When oil is shimmering, add steak and cook 2-3 minutes before flipping. Flip 3 times for a total cooking time of 10-12 minutes or to your preferred doneness. Remove from pan and allow to rest before slicing to preferred thickness.
Prepare Ingredients:
Wash the fresh produce. Thinly slice tomato. Finely dice pickle and add to taste to mayonnaise. Add blue cheese, crumble as you add and mix well.
You Plate It:
In the same pan used for steak, on medium high heat, place the buns, cut side down, toast until slightly browned and warmed. Assemble your burger from the base with lettuce, tomato, sliced steak, a good dollop of sauce and beetroot to taste. Serve potato wedges along side. Enjoy!