Description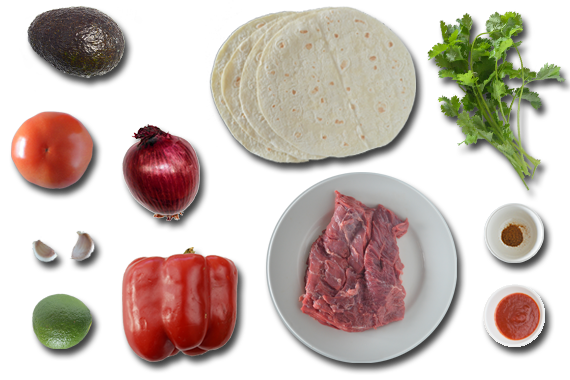 Ingredients
2 Garlic Clove
1 Red Onion (small)
1 Red Capsicum
300 Grams Beef (Stir-Fry Cut)
1 Lime
3 Tablespoons Hot Chili Sauce
1.5 Teaspoons Cumin
1 Tomato
1 Small Bunch Coriander
1 Avocado
1 6-Pack Flour Tortillas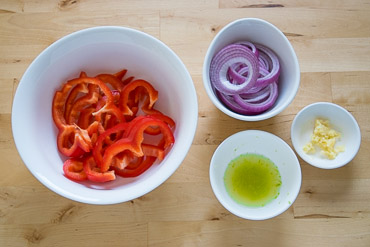 Prepare Ingredients:
Preheat oven to 180°C. Wash the fresh produce. Peel and mince garlic. Peel onion, thinly slice ½, reserve remainder for Step 3. Slice capsicum into ½ cm strips. Zest and juice lime. Pat dry steak with paper towel.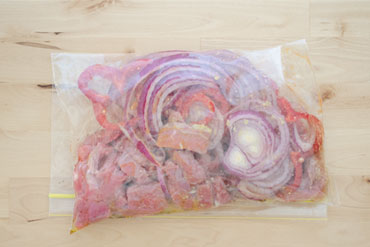 Marinate Beef:
Place minced garlic, sliced onion, sliced capsicum, beef and ½ the lime juice in a zip lock bag (or a large bowl). Add ¾ of the hot sauce (or less if you prefer), and the cumin. Set aside to marinate for at least 10 minutes (or up to 30 minutes).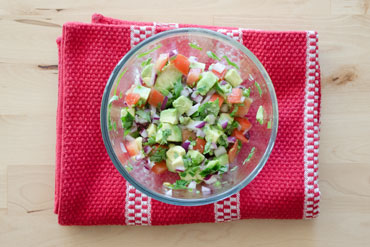 Make Guacamole:
While the beef marinates, make the guacamole. Medium dice tomato. Small dice the reserved onion. Roughly tear coriander leaves, discarding stems. Peel, pit and dice the avocado. Add ingredients to a medium bowl and remaining hot sauce (or less if you prefer). Immediately add remaining lime juice and stir to combine. Taste and add salt and pepper as needed. Set aside.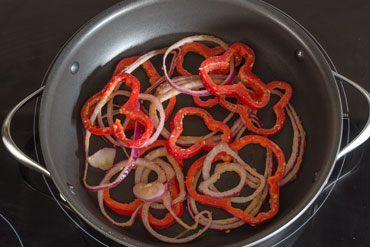 Cook Onions & Capsicum:
Remove onion and capsicum from marinade, allowing excess to drip off. Heat 2 tablespoon oil in a large pan over high heat. When oil is just smoking, add onion and capsicum then cook, stirring occasionally until charred, about 5-7 minutes. Transfer to a plate and set aside.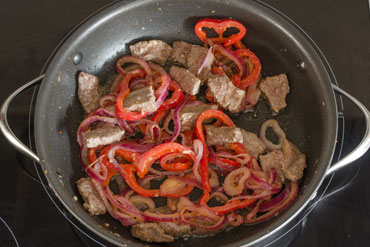 Cook Steak:
Remove steak from marinade, allowing excess to drip off, season both sides with salt and pepper. Add steak to same pan and sear until charred on outside and medium rare, about 2 minutes per side. Return onion and capsicum to pan with steak and stir to combine. Remove pan from heat.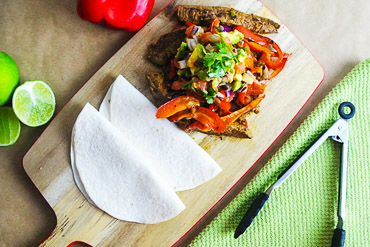 You Plate It:
Cook tortillas, as per preferred method on pack. Divide steak, onion, and capsicum evenly between plates and top with guacamole. Serve with warm tortillas alongside. Enjoy!