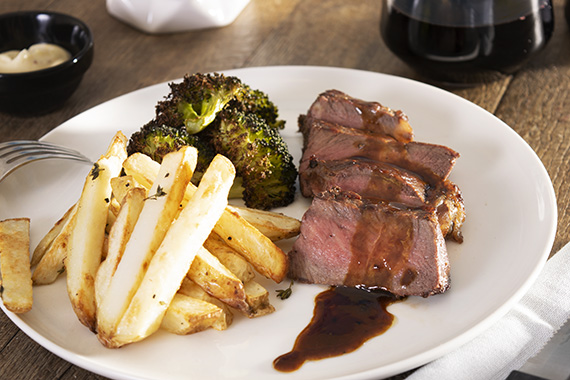 Steak & Fries with Singed Broccoli & Orange Glaze
Prep time: 30
Calories: 560
Deglazing is a cooking technique for removing and dissolving browned food residue from a pan to flavour sauces. In this recipe, you will deglaze your pan with fresh orange juice and a little butter, for a glossy sauce to finish your steak. Add some garlic aioli for your fries and some crispy, singed broccoli and you've got yourself a winning steak dinner!
Ingredients
350 Grams of Porterhouse Steak (Thick-Cut)

3 Potatoes (Select)

1 Broccoli (small)

1 Small Bunch of Thyme

50 Grams of Garlic Aioli

1 Orange

2 Teaspoons of Butter (pantry)
Recipe
Prepare Veg:
Preheat oven to 190°C. Wash the fresh produce. Cut potatoes lengthwise into 1 cm thick sticks. Cut the broccoli into florets Note: not too small as they may overcook. Pick thyme leaves, discarding stems. Cut orange in half.
Roast Veg:
Add a drizzle of olive oil to potatoes and broccoli. Add thyme and season with salt and pepper. Toss to coat. Divide between two lined baking trays; arrange in an even layer. Roast 14 minutes and check the broccoli if getting too brown, remove from oven and keep warm. Continue to roast another 10-15 minutes, or until fries browned and tender when pierced with a fork. Remove from the oven. Tip - don't crowd the trays with the veg, they will cook better with a little room around them.
Cook Steak:
Season steak on both sides with salt. Heat olive oil in a large pan over medium-high heat. When oil is shimmering, add steak and cook 2-3 minutes before flipping. Flip 3 times for a total cooking time of 10-12 minutes or to your preferred doneness. Remove from pan and allow to rest.
Deglaze Pan:
Heat the pan used for steak on medium, then add 3-4 tablespoons of water and the juice from half the orange. Using a wooden spoon to scrape up any bits stuck to the pan. Simmer the sauce 1 to 2 minutes, or until slightly reduced in volume. Stir in butter and remove from the heat. Season with salt and pepper as desired.
You Plate It:
Slice steak, cutting as you wish with potato fries and broccoli. Serve garlic aioli on the side. Enjoy!