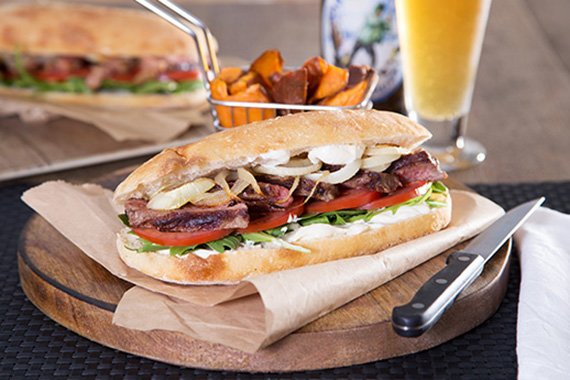 Steak Sandwiches with Sweet Potato Wedges & Seriously Good Garlic Aioli
Prep time:

35

minutes

Calories: 650
The steak sandwich is a classic you can find at almost any Australian restaurant. Despite its popularity, people will often say "it's hard to find a good one". This recipe contains the essentials of onion, tomato and rocket. Together with sweet potato fries and a little garlic aioli, we're confident you'll be skipping the Tuesday night special at your local pub. Happy cooking! #youplateit
Ingredients
250 Grams of Porterhouse Steak (Thick-Cut)

2 Focaccia Panini

1 75 Gram Pack of Rocket & Baby Spinach

0.25 Cups of Garlic Aioli

300 Grams of Sweet Potato (small)

1 Brown Onion

1 Tomato
Recipe
Prepare Ingredients:
Preheat the oven to 200°C. Wash the fresh produce. While steak is still in the vacuum sealed pack; using a meat mallet, rolling pin or small heavy pan, pound to around 1 - 1½ cm thickness. Peel the sweet potato, cut in half lengthwise, then into 1 cm wedges. Peel and cut onion into 1 cm slices. Thinly slice tomato.
Roast Sweet Potatoes & Onion:
Place the sweet potatoes and onion on a lined baking tray. Drizzle with olive oil and season with salt and pepper; toss to coat. Arrange in a single, even layer, and roast on the top shelf of the oven, about 25 minutes, or until sweet potatoes are tender when pierced with a fork and the onions are soft.
Toast Bread:
While the vegetables roast, cut the bread in half. On a second lined baking tray, add the bread rolls, cut side up and drizzle with a little olive oil. Add to the oven when there is only 2 - 3 minutes remaining.
Cook Steaks:
After 10 minutes of the vegetables roasting, pat dry steak with paper towels; season steak on both sides with salt. Heat olive oil in a large pan over medium-high heat. When oil is shimmering, add steak and cook 2 - 3 minutes before flipping. Flip 3 times for a total cooking time of 10 - 12 minutes (or to your preferred doneness). Transfer to a cutting board and let rest for at least 5 minutes. (TIP: we supply our meat as a thick-cut piece, as we think it cooks much better as a bigger piece. You can always cut into thinner steaks if preferred, but bear in mind you will have to keep a closer eye on it to reach your desired doneness).
You Plate It:
Find the lines of muscle (or grain) of the rested steak; thinly slice crosswise against the grain. Spread a thin layer of the aioli onto the bottom cut side of each toasted roll. Top with roasted onion, sliced steak, sliced tomato, then top with rocket and baby spinach. Serve sweet potato wedges on the side. Enjoy!