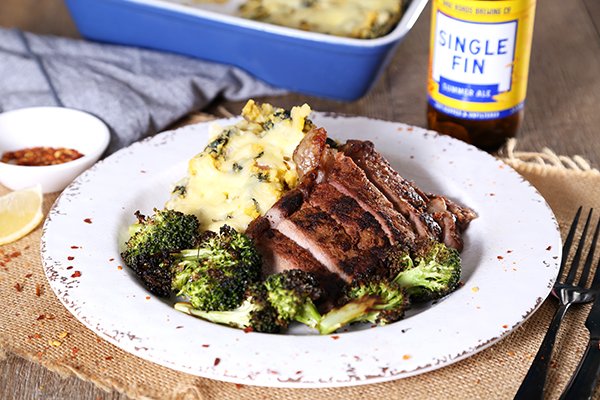 Steak with Cheesy Silverbeet Cornbread with Roasted Broccoli
Prep time:

35

minutes

Calories: 790
To pair with some delicious southern spiced porterhouse, we're making our veersion of cornbread. With tender bites of silverbeet and melted cheese. A zesty side of roasted broccoli topped with fresh lemon juice rounds out the dish.
Ingredients
350 g of Porterhouse Steak (Thick-Cut)

100 g of Polenta

40 g of Mayonnaise

100 g of Sour Cream

70 g of Tasty Cheese (grated)

2 Tsp of Southern Blend

170 g of Broccoli

1⁄3 Bunch of Silverbeet

1 of Shallot

1 of Lemon

1 of Egg (pantry)

40 g of Gluten Free Plain Flour

1⁄2 Tsp of Baking Powder

1 Tsp of chilli Flakes
Recipe
Cook Silverbeet:
Preheat oven to
200°C.
Peel and dice
shallot.
De-stem
silverbeet
and dice small amount of
stem
(you wont need it all). Roughly chop through
leaves.
Heat a little olive oil in a fry pan over medium heat. Add
shallot,
diced
silverbeet stems
and
leaves
and cook for 3-4 minutes, until
shallot
and
stems
are tender and
leaves
are wilted.
Make Cornbread Batter:
In a bowl combine
polenta, GF flour
and
baking powder
, mixing well. Add in
sourcream (reserve 1 Tbsp for sauce in step 5), lightly beaten egg
and
3 Tbsp
of water. Add cooked
silverbeet
and
shallot.
Mix well and season with salt and pepper. Transfer to an ovenproof baking dish and spread in an even layer. Top with the
grated cheese.
Bake Cornbread:
Put in the oven and bake for 15-17 minutes, or until the
filling
is just set (a toothpick inserted into the centre should come out with a few moist crumbs). Remove
cornbread
from the oven and let stand at least 2 minutes before serving.
Roast Broccoli:
Meanwhile, cut
broccoli
into bite size florets, coat with a drizzle of olive oil and place on a lined baking tray. Season well with salt and pepper. Cook
broccoli
in the oven for 10-12 minutes until just tender and edges start to brown and crisp up. Add a squeeze of
lemon juice
as it comes out the oven.
Cook Steak:
Dust
steak
with
spice mix
(reserving about
1
⁄
4
tsp for step 6) and season with salt and pepper. Heat
olive oil
in pan over medium-high heat. When oil is shimmering, add
steak
and cook 2-3 minutes before flipping. Flip 3 times for a total cooking time of 10 - 12 minutes (or to your preferred doneness). Remove from pan and allow to rest.
You Plate It:
In a small bowl combine
mayo
with
remaining sourcream and spice
and mix well. Slice
steak
as desired. Divide
steak, broccoli
and a generous serving of
cheesy
cornbread
between plates and serve with
spiced mayo
on the side. Garnish with
chilli flakes (optional)
. Enjoy!