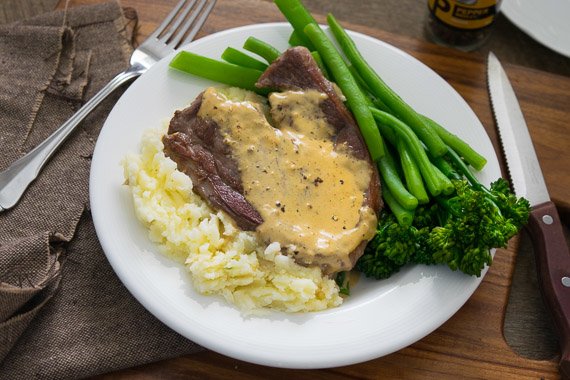 Steak with Creamy Pepper Sauce, Potato Mash & Greens
Prep time:

25

minutes

Calories: 666
This recipe has all the essential elements for a "traditional" Australian dinner – meat and three vegetables 🙂 In this recipe, however, you will use these ingredients and combine with a tasty and creamy sauce. Dijon mustard, together with beef stock and pepper are an incredible combination of flavours that perfectly match the mash and the steak. Enjoy!
Ingredients
350 Grams of Scotch Fillet Steak (Thick-Cut)

2 Teaspoons of Dijon & Stock

80 Grams of Thickened Cream

1 Bunch of Broccolini

200 Grams of Green Beans

2 Dutch Cream Potatoes

1 Tablespoons of Butter (pantry)
Recipe
Marinate Steak:
Drizzle steak with olive oil. Peel potato and cut into 1 cm dice.
Cook Beans and Broccolini:
Heat a large pot of salted water to boiling on high. Trim the ends off the green beans. Add the green beans to the pot of boiling water. After 1 minute, add broccolini. Boil for 2 minutes more. Remove greens from pot using tongs. Set aside greens, cover to keep warm. Return pot to stove stop.
Prepare Potato Mash:
Bring pot back up to a boil, then add potato. Cook until tender, about 10 minutes. Drain hot water. Add butter and mash together using a potato masher. Taste and season as required. Cover with lid to keep warm.
Cook Steak:
In the meantime, heat oil in a large non-stick pan over high heat. Add steak. Cook for about 4 to 6 minutes on each side for medium, or until done to your liking. Turn off heat and remove steak from pan to a reserved plate. Rest steak, loosely covering with foil. (TIP: we supply our meat as a thick-cut piece, as we think it cooks much better as a bigger piece. You can always cut into thinner steaks if preferred, but bear in mind you will have to keep a closer eye on it to reach your desired doneness).
Prepare Sauce:
Return pan to stovetop. With the heat still off, add dijon & stock, 3-4 tablespoon water, cream, ½ teaspoon cracked pepper; then stir to combine. Increase heat to a simmer for 2 minutes, or until slightly thickened. Remove from the heat, stir in the juices that have collected on the plate from the rested steaks. Adjust seasoning to taste.
You Plate It:
Slice steak and serve with sauce, mash potatoes and greens. Enjoy!