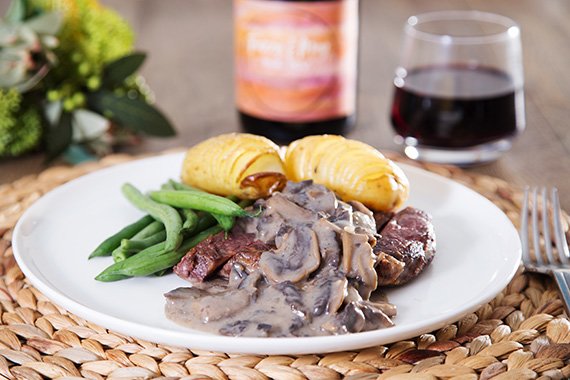 Steaks with Creamy Mushroom Sauce Hasselback Potatoes & Buttered Beans
Prep time:

30

minutes

Calories: 640
The hasselback is easily the most impressive way to prepare potato as a side dish. The name of this dish comes from a restaurant in Stockholm that is said to have first used the technique in the 1700s. Cooking Tip: After you slice the potatoes, run under cold water to wash off the starch from cutting. If possible, open the potato fans a little to get water in them. The olive oil will have an easier time getting into the fans.
Ingredients
350 Grams of Scotch Fillet Steak (Thick-Cut)

140 Grams of Green Beans

2 Garlic Clove

220 Grams of Mushrooms

1 Tablespoons of Beef Stock Concentrate

0.5 Cups of Thickened Cream

450 Grams of Gourmet Potatoes

2 Tablespoons of Butter (pantry)

1 Tablespoons of Gravy Flour
Recipe
Prepare Potatoes:
Preheat oven to 220°C. Using a sharp knife, make slices in potatoes about 2 - 3 mm apart, leaving ½ cm of skin intact on the bottom of each potato. (TIP: We use chopsticks or wooden spoons on either side of the potato when slicing, they act as a stop to prevent slicing all the way through!). On a lined baking tray, drizzle potatoes with olive oil and sprinkle over salt and pepper. Roast, about 25 minutes or until golden and cooked through.
Prepare Ingredients:
Wash the fresh produce. Boil kettle. Peel and mince the garlic. Thinly slice the mushrooms. Trim and discard the ends of the green beans. Pat dry steak with paper towel; season both sides with salt and pepper. Heat a pot of salted water to boil.
Garlic Mushroom Sauce:
Melt half the butter in a medium pan (or pot) over medium-high heat. Add garlic and mushrooms, stirring, for 4 minutes or until tender. Stir in beef stock concentrate and 250mL water and simmer for 5 minutes. Gradually stir in gravy flour to reach desired thickness. To finish, stir in cream.
Cook Steak:
Heat olive oil in a pan over medium-high heat. When oil is shimmering, add steak and cook 2 - 3 minutes before flipping. Flip 3 times for a total cooking time of 10 - 12 minutes (or to your preferred doneness). Remove from pan and allow to rest. (TIP: we supply our meat as a thick-cut piece, as we think it cooks much better as a bigger piece. You can always cut into thinner steaks if preferred, but bear in mind you will have to keep a closer eye on it to reach your desired doneness).
Cook Beans:
In the meantime, carefully add the green beans to the pot of boiling water. Cook 3 - 4 minutes, or until bright green and slightly tender (or until cooked to your liking). Thoroughly drain then add to a bowl. Add remaining butter, season with salt and pepper and stir to combine.
You Plate It:
Slice steak and serve alongside beans and potatoes, topping with that delicious garlic mushroom sauce. Enjoy!