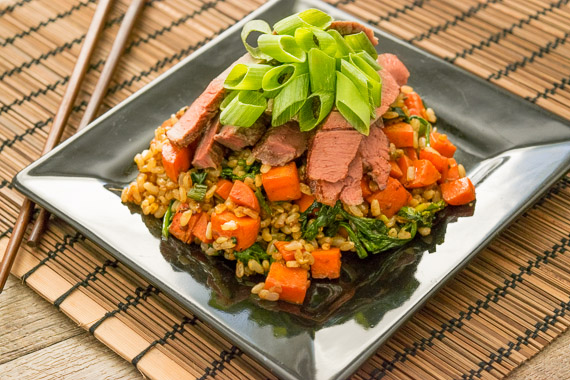 Steaks with Five Spice & Stir Fried Brown Rice
Prep time: 30
Calories: 600
In this recipe you will season steak with five-spice, a seasoning commonly found in Chinese cuisine and made from a traditional blend of five different spices. Try and spot the warming, sweet flavour of cloves and cinnamon, together with a liquorice hint from star anise and fennel seeds. Enjoy!
Ingredients
300 Grams of Rump Steak (Thick Cut)

1 Garlic Clove

2 Spring Onion

1 Ginger

1 Carrot

1 Lime

0.75 Cups of Brown Rice

1 75 Gram Pack of Baby Spinach

40 Grams of Soy Sauce & Sesame Oil

1 Teaspoons of Chinese Five-Spice
Recipe
Cook Brown Rice:
In a pot, combine the rice, a big pinch of salt and 2 cups of water. Heat to boiling on high. Once boiling, cover and reduce the heat to low. Simmer 28 to 30 minutes, or until the water has been absorbed and the rice is tender. Remove from heat and set aside, with a lid on or covered in a warm place.
Prepare Ingredients:
Wash the fresh produce. Remove the steak from the refrigerator to bring to room temperature. Peel and mince the garlic and ginger. Thinly slice the spring onions; separating the green tops and white bottoms. Peel and medium dice the carrot. Zest lime then cut into quarters.
Cook Steak:
While the rice cooks, heat a pan on medium until hot. Pat steak dry with paper towels; season with Chinese 5 spice, salt and pepper on both sides. Heat 2 teaspoons of olive oil on medium-high until hot. Add the seasoned steak. Cook 3 to 4 minutes per side, or until browned and cooked to your desired degree of doneness Tip: flip more often for more even cooking. Transfer the steak to a plate and let rest for at least 5 minutes, covering loosely with foil to keep warm. Wipe out the pan.
Cook Vegetables:
In the same pan, heat olive oil on medium until hot. Add the ginger, garlic, white parts of the spring onion and diced carrot. Season with salt and pepper and cook, stirring frequently, 2 to 3 minutes, or until softened. Add the spinach and season with salt and pepper. Cook, stirring occasionally, 3 to 4 minutes, or until slightly wilted.
Add Rice & Seasonings:
Add the cooked rice, lime zest, soy sauce and sesame oil to the vegetables and increase the heat to medium-high. Cook, stirring occasionally, 2 to 3 minutes, or until completely combined and heated through. Remove from heat and stir in the juice of 1-2 lime wedges.
You Plate It:
Slice the steak crosswise, against the grain. Add any juices from the sliced steak to the stir-fried rice; stir to combine. Divide the rice and vegetables between plates and top with the sliced steak. Garnish with the green parts of the spring onion and the remaining lime wedges. Enjoy!