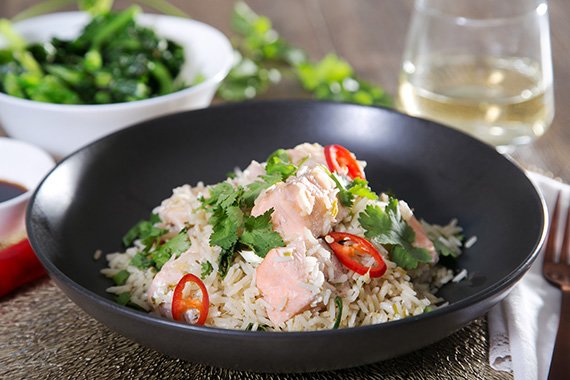 Steamed Salmon & Lemongrass Pilaf with Chinese Broccoli & Sesame Seeds
Prep time:

20

minutes

Calories: 455
Believed to have originated in Persia around 330 BC, pilaf has become a dietary staple for a multitude of regions worldwide, yet the recipe basics remain unchanged. Rice (or wheat in some countries) is cooked in stock or broth with spices and other ingredients such as vegetables or meat, ensuring the grains do not adhere. For our recipe, steamed salmon rests atop a flavourful lemongrass pilaf with fresh coriander and chili garnish. A quick and health midweek dinner - what more could you want?
Ingredients
2 of Salmon Fillets (Skinless)

1 of Ginger

1 Tbsp of Minced Lemongrass

1 of Garlic Clove

3⁄4 Cup of Basmati Rice

2 Tsp of Chicken Stock Concentrate

1 Small Bunch of Coriander

1 of Red Chili

1 of Spring Onion

1 Tbsp of Soy Sauce (GF)

1⁄3 Bunch of Chinese Broccoli

1 Tsp of White Sesame Seeds
Recipe
Prepare Ingredients:
Peel and mince
ginger
and
garlic.
Pat
salmon
dry on paper towel and cut into 3 cm pieces. Trim and thinly slice
spring onion
and
red chili
on an angle. Pick
coriander leaves
and finely chop the
stems
(discarding the roots). Boil kettle.
Cook Aromatics:
Heat oil in pan over medium heat. Add
lemongrass, ginger, garlic, coriander stems
and salt and cook stirring for 4 minutes.
Start Pilaf:
Add the
rice
to the pan and stir to combine. Add
chicken stock concentrate
and
11⁄2 cups hot water
from the kettle then bring to the boil. Cover with lid, reduce heat to low and simmer for 12 minutes.
Add Salmon:
Add
salmon
in a single layer to the top of the
rice
mixture, cover with lid and remove pan from the heat. Allow to stand for 4 minutes, until
salmon
is just cooked through.
Prepare Greens:
Meanwhile; trim and cut
Chinese broccoli
into 3 cm pieces. Heat oil in a pan over medium-high heat. Add
Chinese broccoli
and
sesame seeds
and cook for 2 minutes, until bright green and still a bit crunchy. Season with
soy sauce
(to taste) and set aside.
You Plate It:
Serve the
salmon pilaf
family style to the table and top with
coriander leaves, chili
and
spring onion
. Serve the
sesame Chinese broccoli.
Enjoy!