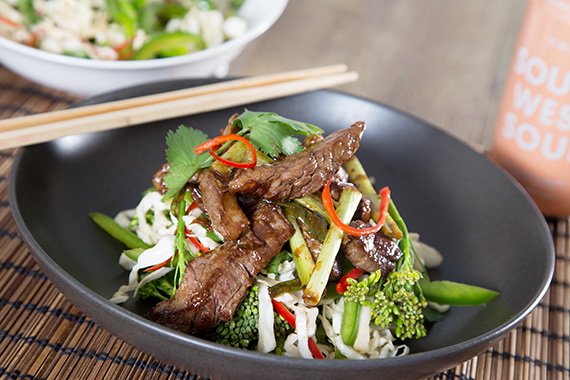 Succulent Hoisin Porterhouse Steak with Raw Vegetable Slaw
Prep time:

15

minutes

Calories: 400
This super easy and quick recipe is perfect for midweek meals. The beef is cooked simply in hoisin, rice vinegar and fish sauce - mouth watering Asian flavours that pair beautifully with some crunchy cabbage, capsicum and a little chili heat. Share your moment on Instagram and Facebook #youplateit #nomorewhatsfordinner
Ingredients
300 Grams of Porterhouse Steak (Thick-Cut)

70 Grams of Hoisin Beef Sauce

3 Spring Onion

0.5 Bunch of Broccolini

0.25 Green Cabbage

1 Red Chili

1 Small Bunch of Coriander

1 Green Capsicum (small)
Recipe
Prepare Ingredients:
Wash the fresh produce. Shred cabbage 2-3mm thick, deseed and thinly slice chili and capsicum. Trim ends off broccolini and slice stems 5 mm thick, keeping florets whole. Slice spring onions into 6 cm lengths. Pick coriander leaves, discarding stems. Pat dry beef with paper towel and cut into 1½ cm thick, stir fry strips.
Combine Salad Ingredients:
In a large bowl add cabbage, chili (add as much or as little to taste), capsicum, coriander leaves (reserve some for garnish) and broccolini. (TIP: coriander can have a strong flavour - add as much or as little as you like).
Brown Beef:
Heat oil (enough to cover base) in a pan over high heat until hot. Add beef and stir fry for 2 minutes, until browned, remove from pan and set aside. (Tip: Cook beef in batches if required, to prevent the meat from stewing and becoming tough).
Add Spring Onion:
Return pan to the heat, add spring onion and cook for 1 minute. Add beef back to the pan, ½ the hoisin beef sauce and 2 Tbs warm water, mix and heat through.
You Plate It:
Dress salad with the remaining hoisin beef sauce and mix well. Divide between dishes and top with beef. Garnish with coriander. Enjoy!