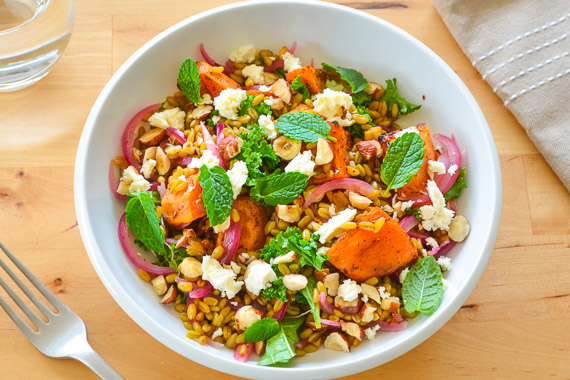 Sumac Roasted Sweet Potato with Farro Salad, Pickled Red Onion & Hazelnuts
Prep time:

30

minutes

Calories: 700
Sumac is a flowering plant that grows in subtropical and temperate regions throughout the world. The fruits of the plant are ground into a reddish-purple powder and used as a spice to add a lemony taste to salads or meat. In Jordanian cuisine, sumac is added to salads and it is in this tradition that you will use it to add flavour to the sweet potato. Enjoy!
Ingredients
0.75 Cups of Farro (Cracked)

0.33 Bunch of Kale

350 Grams of Sweet Potato (Small)

1 Red Onion

1 Small Bunch of Mint

2 Tablespoons of Hazelnuts

60 Grams of Fetta Cheese

2 Tablespoons of Red Wine Vinegar

2 Teaspoons of Sumac (ground)
Recipe
Prepare Ingredients:
Preheat the oven to 200°C. Wash the fresh produce. Heat a large pot of salted water to boiling on high. Remove and discard the kale stems; roughly chop the leaves. Peel and large dice the sweet potatoes. Peel and thinly slice the onion. Pick the mint leaves; discarding stems. Roughly chop the hazelnuts.
Roast Sweet Potatoes:
Place the sweet potatoes on a lined baking tray. Drizzle with olive oil and season with salt, pepper and the sumac; toss to coat. Arrange in a single, even layer and roast 25 to 27 minutes, or until lightly browned and tender when pierced with a fork. Remove from the oven and set aside.
Cook Farro & Add Kale:
While the sweet potatoes roast, add the farro to the pot of boiling water. Cook 14 to 16 minutes, or until tender. Remove from heat. Drain thoroughly and return to the pot. Stir in the kale and drizzle with olive oil. Stir to combine, season with salt and pepper to taste. Set aside in a warm place.
Pickle Onion:
While the farro cooks, in a small pan, combine the onion, vinegar and ½ cup of water. Cook on medium heat, occasionally swirling the pan, 4 to 6 minutes until the liquid has slightly reduced in volume. Transfer to a heatproof bowl and set aside.
Make Salad:
To the pot of farro and kale, add the pickled onions draining just before adding and roasted sweet potatoes; toss to thoroughly combine. Season with salt and pepper to taste.
You Plate It:
Divide the salad between dishes. Garnish with mint, chopped hazelnuts and fetta crumble as you add. Enjoy!