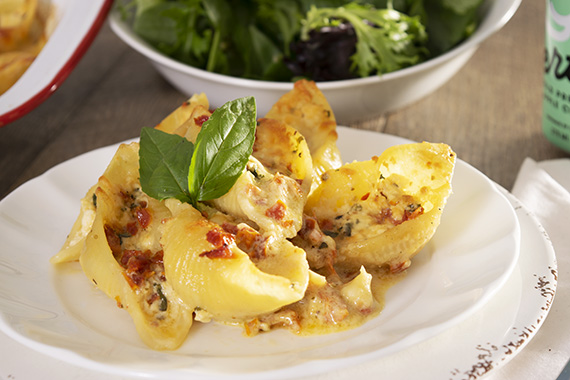 Sundried Tomato & Ricotta Stuffed Shells, Served with Mixed Lettuce Leaves
Prep time: 35
Calories: 680
Sun dried tomato, cream and basil combine in this dish for a winning combination, and it's vegetarian! Enjoy a little taste of Italy on a weeknight, and maybe even a sneaky cider which will match perfectly with this recipe, setting yourself up for a great week! Share your moment on Instagram #youplateit.
Ingredients
120 Grams of Jumbo Pasta Shells

150 Grams of Ricotta (Firm)

60 Grams of Mozzarella (Grated)

45 Grams of Sundried Tomatoes

1 Small Bunch of Basil

1 30 Gram Pack of Concentrated Vegetable Stock

150 Grams of Thickened Cream

1 75 Gram Pack of Mixed Lettuce

1 Egg (pantry)
Recipe
Cook Pasta:
Preheat oven to 180°C. Put a pot of salted water on to boil. In the meantime, prepare ingredients: finely dice sun dried tomato. Pick basil leaves and roughly chop reserving a few leaves for garnish. Add the pasta shells to the boiling water and cook for 8 minutes, or until they are almost cooked through. Note: the pasta shells should still be slightly firm - this will help keep their shape when you fill them. Carefully drain the shells and gently toss with olive oil to prevent sticking.
Make Sauce:
Meanwhile, combine vegetable stock concentrate with ¾ cup of water. In a pot over medium low heat combine stock, cream and ½ of the sun dried tomatoes. Bring to a simmer and cook for 5 minutes.
Make Filling:
While the sauce is simmering: in a bowl combine ricotta, remaining sun dried tomatoes, chopped basil, egg and ½ the cheese. Season with salt and pepper, stir well.
Stuff Shells:
Carefully spoon filling into partly cooked shells and place in an oven proof dish, in a single layer.
Bake Shells:
Pour sauce over shells to coat and cover. Give the dish a little shake to make sure sauce coats all the shells. Top with the remaining cheese. Bake for 12 to 15 minutes, or until the sauce is bubbly and the cheese is slightly browned.
You Plate It:
Remove dish from the oven and let stand at least 5 minutes before plating. Divide between plates and garnish with reserved basil. Serve with mixed lettuce on the side. Enjoy!