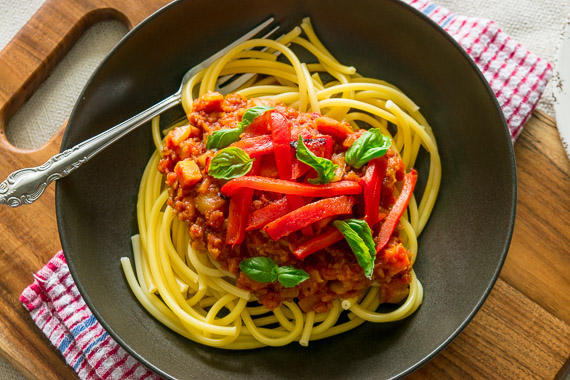 Super Veg Pasta Sauce with Fresh Basil & Bucatini Pasta
Prep time: 30
Calories: 530
This recipe is a very popular five-star dinner that allows you to easily get your daily serve of vegetables. With fennel, capsicum, onion, carrot and tomato, this recipe is packed with vegetables and healthy goodness. A little basil and chili flakes give this recipe a delicious flavour. Share the moment you plate it on Instagram #youplateit
Ingredients
1 Red Capsicum (Small)

1 Fennel (small)

1 Brown Onion

1 Carrot

1 Garlic Clove

1 Teaspoons of Fennel Seed (ground) & Chili Flakes

1 Tablespoons of Tomato Paste

1 400 Gram Pack of Diced Tomatoes

1 30 Gram Pack of Concentrated Vegetable Stock

1 Small Bunch of Basil

200 Grams of Bucatini Pasta
Recipe
Grill Capsicum:
Preheat oven to 200°C. Line a baking tray with foil. Quarter and deseed the capsicum. Pop the capsicum, skin-side up, in the oven for 15-20 minutes or until beginning to char. Transfer to a bowl, cover and set aside. When cool enough to handle, peel off the skin and cut the flesh into strips. Turn off the oven.
Prepare Ingredients:
Wash the fresh produce. Medium dice the fennel, ¾ of the onion and carrot. Peel and mince the garlic. Heat a medium pot of salted water to boiling on high.
Start Super Veg Pasta Sauce:
Heat oil enough to cover the base in a large pot to medium heat. Add the fennel, onion and carrot and cook for 8-10 minutes until softened, stir frequently. Reduce heat slightly if starting to burn. Stir in the garlic, chili flakes, fennel seeds and tomato paste, cook for 2 minutes. Add ½ the diced tomatoes you will have ½ a tin left over, concentrated vegetable stock, 200mL water and ½ teaspoon sugar optional. Reduce heat to low. Simmer, uncovered, for 10 minutes or until the vegetables are completely soft.
Cook Bucatini Pasta:
In the meantime, add the bucatini pasta to the pot of boiling water. Cook 7 to 9 minutes, or until just shy of al dente. Drain thoroughly. Set aside.
Finish Super Veg Pasta Sauce:
Tip: If you don't have a stick blender just skip this part. Take out a couple of spoonfuls of the sauce this will add texture later, then blend the rest in the pot until almost smooth with a stick blender or to desired texture. Note: be careful that the sauce doesn't splatter over you. Simmer for a few minutes to thicken. Stir in reserved sauce. Taste and adjust seasoning as required.
You Plate It:
Divide the bucatini pasta between plates and top with pasta sauce. Tear over the basil leaves and capsicum. Enjoy!