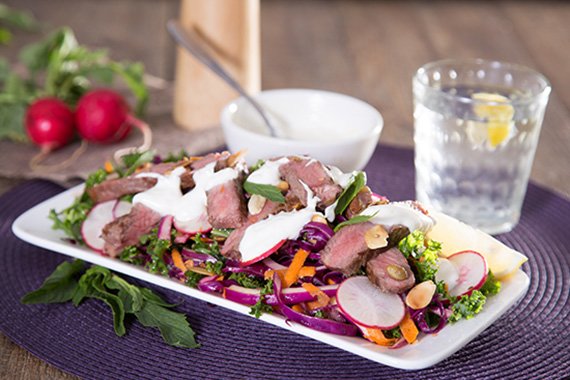 Superfood Salad with Porterhouse Strips Fresh Mint and Lemon Zested Yoghurt
Prep time:

20

minutes

Calories: 600
Kale and radish are both members of the cruciferous vegetable family and contain phytonutrients, glucosinolates, fibre, and other cancer-fighting vitamins and minerals. In this recipe we combine them with a protein packed porterhouse, mint, crunchy seed/nut mix and zesty yoghurt. Perfect midweek meal that is filling and delicious but not heavy.
Ingredients
350 g of Porterhouse Steak (Thick-Cut)

1⁄3 Bunch of Kale

3 Tbsp of Seed Mix

2 Tbsp of Flaked Almonds

80 g of Greek Yoghurt

1 of Carrot

1 of Red Onion

2 of Radish

1⁄8 of Red Cabbage

1 Small Bunch of Mint

1 of Lemon
Recipe
Dry Toast Seeds & Nuts:
Heat a dry pan over medium heat and toast
seed mix
and
flaked almonds
for 1-2 minutes, or until they start to toast.
Cook Steak:
Season both sides of
steak
with salt. Heat olive oil in the same pan over medium-high heat. When oil is shimmering, add
steak
and cook 2-3 minutes before flipping. Flip 3 times for a total cooking time of 10-12 minutes (or cooked to your liking). Remove from pan and allow to rest.
Prepare Ingredients:
Remove stems on
kale
and roughly chop. Grate
carrot.
Slice
radish
into thin rounds. Pick
mint
leaves, discarding stems. Thinly slice
red cabbage
. Zest
lemon
and cut into wedges. Peel and cut
red onion
in half - thinly slice
1
⁄
2
(you will have half leftover).
Combine Salad Ingredients:
Combine
kale, cabbage, carrot, radish, sliced red onion
,
toasted nuts & seeds
(reserving some for garnish) and
mint
leaves (tearing as you add). Drizzle with a little olive oil, squeezes of
lemon juice
(to taste). Combine
lemon zest, squeeze of lemon juice
and
yoghurt
in a small bowl and mix well. Season well with salt and pepper.
You Plate It:
Cut
steak
across the grain into 5 mm thick slices or to your liking. Add sliced
steak
to the platter of
salad,
or divide amongst plates. Garnish with dollops of zesty
yoghurt
,
reserved nuts
and
seeds
and any
remaining mint.
Enjoy!