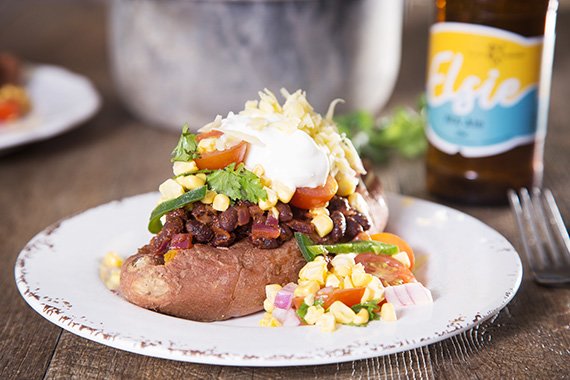 Taco Stuffed Sweet Potato with Jalapeno Salsa & Greek Yoghurt
Prep time:

25

minutes

Calories: 700
If you are looking for a quick and healthy vegetarian dinner, this is it. Sweet potatoes stuffed with a spicy black bean 'taco' filling, topped off with a cherry tomato, sweet corn and jalapeno salsa. A little twist on a favourite, we're certain it will be a midweek delight. Share the moment #youplateit with us on Instagram and Facebook and enjoy!
Ingredients
2 Sweet Potato (Small)

1 400 Gram Pack of Black Beans

1 Sweet Corn Cob

100 Grams of Cherry Tomatoes

1 Red Onion

1 Small Bunch of Coriander

70 Grams of Tasty Cheese (grated)

50 Grams of Greek Yoghurt

1 Teaspoons of Mole Spice Mix

1 Garlic Clove

1 Lime

1 Jalapeno

1 Tablespoons of Tomato Paste
Recipe
Cook Potatoes:
Preheat oven to 180°C. Pierce potatoes all over with a fork. Microwave until tender, 8-10 minutes, turning halfway through (potatoes should be soft when cut in half. Microwave for longer if required). Set aside to cool slightly. Slice down the centre and mash inside a little with a fork.
Prepare Ingredients:
Wash the fresh produce. Peel and small dice ¾ of the red onion (you will have left over). Peel and mince garlic. Remove silks and husks from corn cob (and discard). Cut corn kernels from the cob (discarding the cob). Cut cherry tomatoes in half. Pick coriander leaves and roughly chop (discarding stems). Thinly slice ½ the jalapeno (removing the seeds if you wish - you will have left over). Zest lime and cut in half. Drain and rinse beans.
Make 'Taco' Bean Filling:
Heat olive oil (enough to cover base) in a pan over medium heat. Add onion (reserving 1 TBS) and garlic and cook until tender and translucent, about 3-5 minutes. Add the spice mix, beans and tomato paste and cook a further 5 minutes, until beans are warmed through. Squeeze in some lime juice (to taste) and zest. Season to taste with salt and pepper if needed.
Prepare Salsa:
In the meantime, in a bowl combine cherry tomatoes, corn kernels, remaining onion, jalalpeno (to taste) and coriander (reserving some for garnish). Squeeze over remaining lime juice and season with salt and pepper.
You Plate It:
Fill sweet potato with taco beans and top with salsa, grated cheese and a dollop of yoghurt. Garnish with remaining coriander and enjoy!