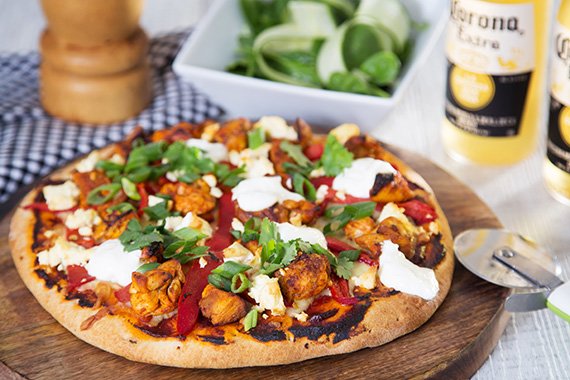 Tandoori Chicken Pizza with Greek Yoghurt & Cucumber
Prep time:

25

minutes

Calories: 590
A nice little fusion of Italian and Indian - Tandoori flavours on a pizza, who would have thought! Served with a simple salad of tomato, cucumber and rocket, it's your Friday night pizza sorted. Enjoy with a crisp local lager and it's a cracking way to end the week. Share the moment #youplateit with us on Instagram.
Ingredients
1 of Pizza Base

2 of Chicken Thighs (skinless)

80 g of Greek Yoghurt

1 Small Bunch of Coriander

65 g of Fire Roasted Red Capsicum

50 g of Grated Pizza Cheese

1 of Lebanese Cucumber

50 g of Fetta Cheese

1 of Spring Onion

2 Tbsp of Tandoori Paste
Recipe
Cook Tandoori Chicken:
Preheat oven to 250°C until nice and hot. Pat dry chicken with paper towel and cut into 1 cm dice. Coat chicken well with tandoori paste. Heat olive oil in a pan over medium-high heat. When oil is shimmering, add chicken and cook until browned on outside, about 3 minutes per side. Transfer to a plate and set aside.
Add Pizza Toppings:
Slice fire roasted capsicum. Add pizza base to a lined baking tray. Spread tomato paste over the base and top with pizza cheese. Add cooked chicken pieces, fire roasted capsicum and fetta (crumbling as you add).
Cook Pizza:
Place pizza in oven and cook for 10 - 12 minutes until the base is browned and crisp, or done to your liking.
Prepare Side Salad:
While the pizza cooks; wash the fresh produce. Using a peeler, slice the cucumber into ribbons. Pick coriander leaves, discarding stems. Thinly slice spring onions on a slight angle.
You Plate It:
Remove pizza from the oven, dollop yoghurt on top and garnish with coriander. Top with cucumber ribbons and spring onions. Cut into slices. Enjoy!