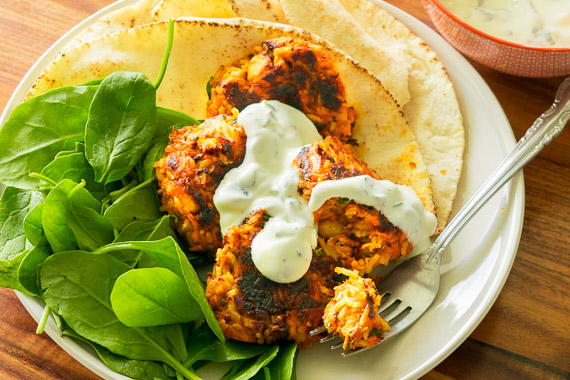 Tandoori Patties with Fresh Salmon Basmati Rice, Baby Spinach & Pita Bread
Prep time: 30
Calories: 650
Tandoori is a recipe most often associated with chicken, but in the Punjab region of India, the same flavours and cooking techniques are used on other meats, including fish. In this recipe, you will prepare salmon cakes with the flavours of tandoori. To complement the salmon cakes is a yoghurt mixed with mint and lemon juice. Share the moment #youplateit on Facebook or Instagram.
Ingredients
0.5 Cups of Basmati Rice

250 Grams of Salmon Fillets (Skinless)

1 Potatoes (Large)

1.5 Tablespoons of Tandoori Paste

1 Egg (pantry)

1 Small Bunch of Mint

1 Lemon

1 5 Pack of Pita Bread

1 75 Gram Pack of Baby Spinach

0.5 Cups of Greek Yoghurt
Recipe
Cook Rice:
Preheat oven to 220°C. In a medium pot, combine the rice with 1 cup of water and a pinch of salt. Stir to loosen the rice. Heat the pot to boiling on high. Once boiling, cover, then reduce the heat to low, and simmer about 15 minutes, or until the water is absorbed and the rice is cooked through. Fluff the finished rice with a fork. Taste the rice; if it is still too firm, add a few more tablespoons of water. Cover the pot and let the rice absorb the water off of the heat. Heat a large pot of salted water to boiling on high.
Cook Salmon:
Lightly grease a lined baking tray with oil. Place salmon, on prepared tray. Add to the bottom shelf of the oven, bake for 8-10 minutes. Once baked, remove and set aside to cool. Once cooled, shred the salmon flesh with two forks.
Make Mash:
Small dice the potatoes into 1-2 cm dice. Add to the pot of boiling water. Cook 8 to 10 minutes, or until tender when pierced with a fork. Drain thoroughly under cold water and return to the pot. Season with salt and pepper. Using a potato masher or a large fork if you don't have one, mash to your desired consistency. Set aside.
Prepare Patties:
To the potato mash, add salmon, half the rice, tandoori paste to taste, egg, half the mint and lemon zest. Season with a pinch of salt. Mix together well. Shape mixture into 6 equal patties, pressing together firmly. Place on a plate and chill in the freezer for 5 to 10 minutes.
Prepare Yoghurt Sauce:
Mix yoghurt with remaining mint leaves and lemon juice to taste in a bowl. Season with salt and pepper to taste. Set aside.
You Plate It:
Heat oil in a nonstick pan over medium-high heat. Cook patties, turning carefully, for 4 minutes on each side or until golden. Serve patties with pita bread, baby spinach leaves, yoghurt sauce and remaining rice on the side. Enjoy!