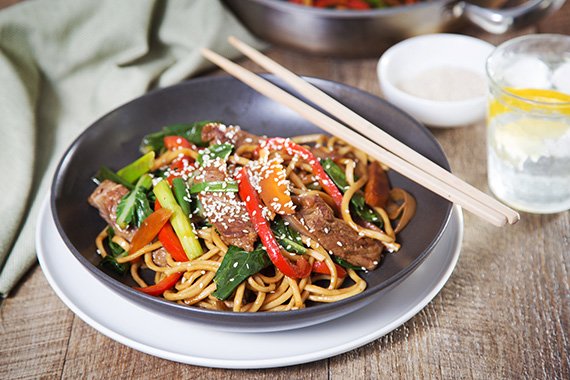 Teriyaki Beef with Udon Noodles, Veg & Sesame Seeds
Prep time:

25

minutes

Calories: 590
In this dish, beef strips are marinated in teriyaki sauce and then stir fried in a hot pan, along with some fresh vegetables and delicious udon noodles - This quick and easy dish is sure to become a family favourite! Fun Fact: Teri means luster, and yaki means grill. Share the moment #youplateit with us on Instagram or Facebook and enjoy!
Ingredients
250 Grams of Porterhouse Steak (Thick-Cut)

70 Grams of Teriyaki Sauce

180 Grams of Udon Noodles

2 Spring Onion

2 Garlic Clove

1 Brown Onion

1 Red Capsicum (Small)

0.33 Bunch of Chinese Broccoli

1 Tablespoons of White Sesame Seeds

1 Carrot

1 Teaspoons of Cornflour
Recipe
Marinate Beef:
Pat dry beef with paper towel and cut into 1.5 cm strips. Place beef strips in a bowl with teriyaki sauce to marinate for at least 10 minutes.
Prepare Ingredients:
Put a pot of water on to boil. Wash the fresh produce. Peel and mince garlic. Trim and discard the ends of the spring onion and cut into 4 cm pieces. De-seed and thinly slice capsicum. Discard ends, then roughly chop Chinese broccoli stems and leaves. Peel and cut ¾ of the onion into 1 cm wedges (you will have left over). Peel and cut carrot length ways, slicing thinly on a slight angle into half moons.
Stir Fry Beef:
Heat olive oil (enough to cover base) in a wok (or fry pan) over high heat. Add beef (reserving teriyaki marinade) and garlic, and stir fry in the hot pan for 3-4 minutes, until beef has browned. Remove from pan and set aside. (TIP: you may need to cook the meat in batches to prevent it stewing and becoming tough).
Cook Udon Noodles:
Once water is boiling, add udon noodles and cook for 8 minutes, drain and rinse under cold water to prevent noodles over cooking and sticking together. Set aside.
Cook Veg:
Meanwhile, in the same pan used for the beef, heat a little more oil and add onion wedges, carrot and capsicum, cooking for 3 minutes.
You Plate It:
Add the udon noodles, spring onion, Chinese broccoli, beef and remaining teriyaki marinade. Mix cornflour with 1 TBS of water and add to the pan. Cook for 2 minutes, until heated through. Divide between plates and garnish with sesame seeds. Enjoy!