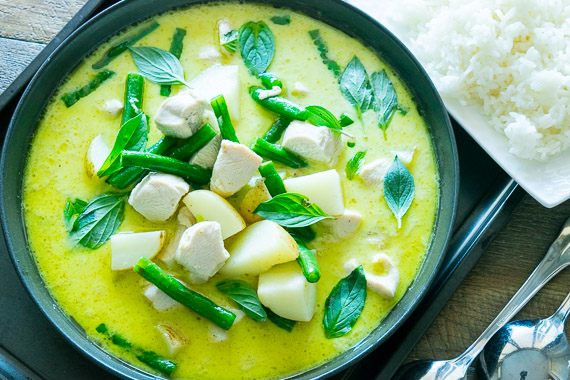 Thai Green Chicken Curry with Jasmine Rice
Prep time: 30
Calories: 520
This fragrant and creamy Thai green chicken curry will certainly impress your friends and family. Creamy coconut milk, together with green curry paste and kaffir lime leaves creates a beautiful combination of flavours. A nice serve of green beans and potato finishes the dinner. Share your triumph on Instagram #youplateit #nomorewhatsfordinner
Ingredients
0.5 Cups of Jasmine Rice

3 Chicken Thighs (skinless)

200 Grams of Gourmet Potatoes

130 Grams of Green Beans

1 Garlic Clove

1 Tablespoons of Thai Green Curry Paste

1 400 Gram Pack of Coconut Milk

1 Tablespoons of Fish Sauce

1 3 Gram Pack of Sugar

1 Kaffir Lime Leaves

1 Small Bunch of Thai Basil
Recipe
Cook Rice & Cut Chicken:
In a medium pot, bring 1 cup water to a boil. Stir in the rice; cover with a lid and reduce the heat to low. Simmer for 15 minutes until all of the water is absorbed. Taste the rice; if it is still too firm, add a few more tablespoons of water. Cover the pot and let the rice absorb the water off of the heat. Fluff the finished rice with a fork. Cut chicken into bite size pieces.
Boil Green Beans & Potatoes:
Bring a second pot of water to a boil. Medium dice the potatoes. Trim the ends off the green beans, cut into 2-3 cm pieces. Put the potatoes in the pot of boiling water and cook for 5 minutes. Throw in the beans and cook for a further 2 to 3 minutes, by which time both should be just tender, but not too soft. Drain and set aside.
Start Curry:
In the meantime, thinly slice the garlic. Heat oil in a large pot or pan until very hot, then drop in the garlic and cook until golden, this should only take about 30 seconds. Tip: Don't let it go very dark or it will spoil the taste. Add the curry paste and stir for a few seconds to begin to cook the spices and release all the flavours. Next, pour in ¾ of the coconut milk you will have remainder and let it come to a simmer.
Cook Curry:
Stir in the fish sauce, sugar optional, then the chicken pieces. Turn the heat down to a simmer and cook, covered, for about 8 minutes until the chicken is cooked through.
Finish Curry:
In the meantime, thinly slice the kaffir lime leaves. Once the chicken is cooked, add the sliced kaffir lime leaves, potatoes and beans and let them warm through in the hot coconut milk. Adjust seasoning by adding extra salt or sugar to taste.
You Plate It:
Scatter with the basil leaves. Divide chicken curry between bowls and serve with rice. Enjoy!