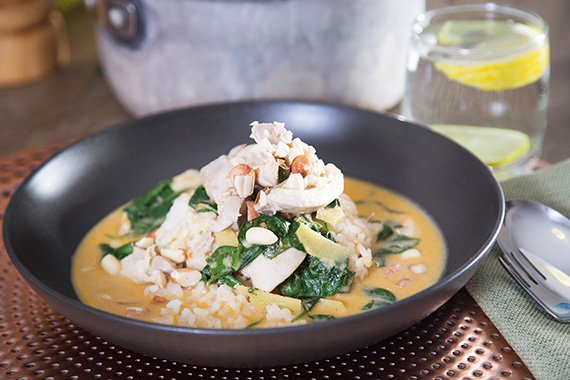 Thai Peanut Chicken Curry with Sticky Rice
Prep time:

35

minutes

Calories: 608
Sticky rice, also called glutinous rice, is popular in south-east Asia - especially Laos and Burma. Its stickiness comes from higher starch levels compared to other strains of rice. Cooking Tip: knead the rice to release the steam, folding it over itself until it forms a sticky ball. #youplateit
Ingredients
0.75 Cups of Sticky Rice

3 Chicken Thighs (skinless)

1 75 Gram Pack of Baby Spinach

3 Tablespoons of Peanuts (chopped)

1 Ginger

1 400 Gram Pack of Coconut Milk

0.33 Cups of YPI Thai Peanut Curry

120 Grams of Snow Peas
Recipe
Cook Sticky Rice:
In a medium pot over high heat, bring rice, 1¼ cups water, and a pinch of salt to a boil. Stir once, cover, REDUCE heat to low, and cook for 12 minutes. Remove pot from heat and allow to stand, still covered, for 10 minutes.
Prepare Ingredients:
While rice cooks, wash the fresh produce. Peel ginger and thinly slice. Pat dry chicken with paper towel. Halve lengthwise, then slice into thin, bite-sized strips. De-string snow peas and cut in half on a slight angle. (Note: We had a suggestion from a customer to add in some more greens on this recipe, so we listened. That's why you don't see any snow peas in the pic 😉 )
Cook Chicken:
In a medium high-sided pan (or pot) over medium heat, bring coconut milk to a simmer. Season chicken with salt. When coconut milk is simmering, add chicken and ginger and cook, keeping chicken submerged, until no longer pink and cooked through, about 3-5 minutes.
Make Peanut Curry:
Add YPI Peanut Curry (to taste - it is quite hot) to pan with coconut milk and stir to combine. Simmer until flavours are melded and curry is smooth, about 5 minutes.
Add Veg:
Add snow peas and simmer for 2 minutes. Taste and add salt as needed. Stir in the spinach and immediately remove pan from heat.
You Plate It:
Transfer sticky rice to a clean dry surface. Using a wooden spoon, knead, flattening rice in an even layer, then folding it over itself. Repeat until rice is sticky, then roll into a ball. Divide rice, chicken curry evenly between bowls. Garnish with chopped peanuts Enjoy!