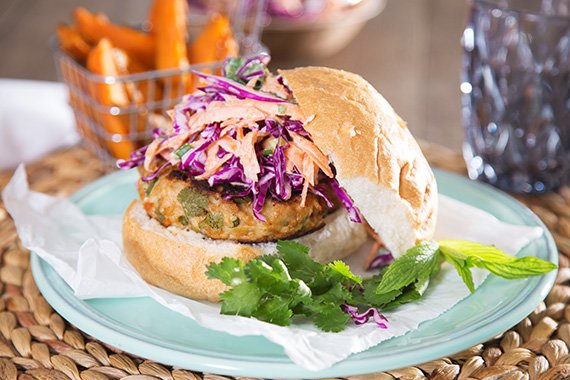 Thai Style Chicken Burgers with Sweet Potato Wedges & Sweet Chili Mayo
Prep time:

35

minutes

Calories: 595
In this recipe, you will make a one-of-a-kind burger. The delicious Thai flavours of red curry paste, spring onion, fish sauce and coriander combines perfectly with the lighter flavour of chicken mince. Tip: the chicken burgers can be quite a "wet mixture", so forming the patties once transferred onto a plate can help. Share the moment on Instagram or Facebook #youplateit
Ingredients
1 Small Bunch of Coriander

300 Grams of Sweet Potato (small)

1 Spring Onion

250 Grams of Chicken Mince

1 Tablespoons of Thai Red Curry Paste

1 Tablespoons of Sweet Chili Sauce

0.33 Cups of Panko Bread Crumbs

1 Tablespoons of Fish & Soy Sauce

2 Hamburger Buns

50 Grams of Mayonnaise

1 200 Gram Pack of Asian Slaw
Recipe
Prepare & Form Chicken Burgers:
Preheat the oven to 200°C. Wash the fresh produce. Pick the coriander leaves, discarding stems. Thinly slice the spring onion. In a large bowl, combine the mince, curry paste, sliced spring onions, 1 tsp sweet chili sauce, breadcrumbs, fish sauce, soy sauce and ⅓ of the coriander. Use your hands (or a fork) to gently mix until just combined. Transfer to a plate and form the mixture into 2 patties. Cover. Refrigerate for 10 minutes.
Roast Sweet Potatoes:
Peel the sweet potato, then cut into wedges. Place the wedges in a single layer, on a lined baking tray (using 2 if required). Drizzle with olive oil. Season with salt and pepper and toss to coat. Roast in the oven about 20-25 minutes, or until browned and tender when pierced with a fork.
Cook Chicken Burgers:
In a large pan, heat olive oil on medium-high until hot. Add the burgers and cook about 4 to 5 minutes per side, or until cooked through.
Toast Hamburger Buns and Prepare Slaw:
While the burgers cook, mix the remaining sweet chili sauce and mayonnaise until well combined. Add slaw to a bowl with remaining coriander (to taste). Add ½ the sweet chili mayonnaise and mix well. Split the hamburger buns apart and toast them in a dry pan on medium for 1 to 2 minutes, or until golden. Alternatively, toast in the oven for 2-3 minutes.
You Plate It:
Spread the remaining sweet chili mayonnaise onto the top sides of the buns. Place a burger and slaw on each bun. Serve with sweet potato wedges and any remaining slaw. Enjoy!