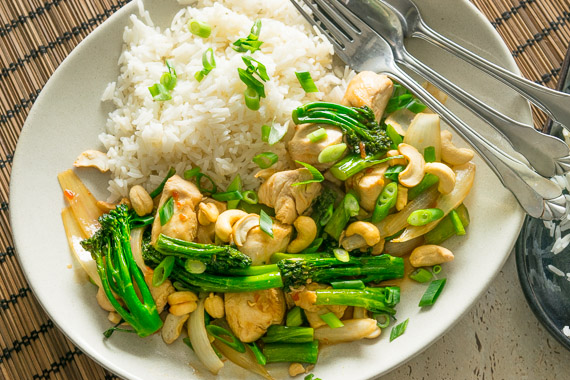 Thai Style Chicken & Cashew, with Broccolini & Jasmine Rice
Prep time:

30

minutes

Calories: 399
All good Thai restaurants will have Chicken with Cashew on the menu. It's a Thai classic, and is easily one of our favourites. This midweek version has the right combination of flavour and freshness. It's salty and spicy, but without being overpowering. Need more spice? Add more sambal oelek. The Broccolini brings a fresh balance. Enjoy and share using #youplateit
Ingredients
0.75 Cups of Jasmine Rice

2 Garlic Clove

2 Chicken Breast

1 Brown Onion

0.5 Tablespoons of Sambal Oelek

50 Grams of Oyster Sauce

25 Grams of Soy Sauce

65 Grams of Cashew Unsalted Roasted

1 Bunch of Broccolini

1 Spring Onion
Recipe
Cook Rice:
In a medium pot, bring 1⅓ cups water to a boil. Stir in the rice; cover and reduce the heat to low. Simmer for 15 minutes until all of the water is absorbed. Taste the rice; if it is still too firm, add a few more tablespoons of water. Cover the pan and let the rice absorb the water off of the heat. Fluff the finished rice with a fork.
Prepare Ingredients:
Wash the fresh produce. Peel and thinly slice the garlic. Peel and cut onion into 1 cm wedges. Trim the ends off the Broccolini, then cut into 2-3 cm pieces. Pat dry chicken with paper towel, then dice into 1½-2 cm pieces.
Start Cashew Chicken:
Heat olive oil in a large high sided pan or pot over medium heat. When oil is shimmering add garlic and cook for 2 minutes. Add the chicken and the sambal oelek, then cook for 4 minutes.
Finish Cashew Chicken:
Add the Broccolini, oyster sauce, soy sauce and onion. Cook for 5 minutes, stirring occasionally.
You Plate It:
In the meantime, thinly slice the spring onion. Divide between plates. Sprinkle with cashews and spring onion. Serve alongside the rice. Enjoy!