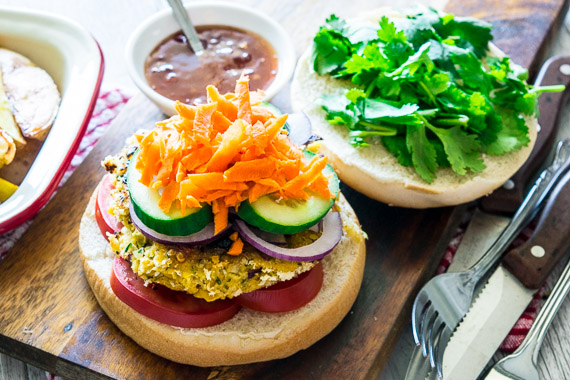 The Best Chickpea & Coriander Burgers with Sweet Chili & Potato Wedges
Prep time: 35
Calories: 610
High in fibre, low in fat and counting for more than half your daily vegetable quota, this tasty burger delivers on all levels. Chickpeas are exceptionally versatile and here you will use them to make a burger patty that is cooked in the oven. Share the love and tag us in your dinner time food photography #youplateit
Ingredients
1 400 Gram Pack of Chickpeas

1 Lemon

0.5 Teaspoons of Cumin

1 Small Bunch of Coriander

1 Egg (pantry)

1 Cups of Panko Bread Crumbs

1 Red Onion

2 Hamburger Buns

1 Tomato (small)

1 Lebanese Cucumber

1 30 Gram Pack of Sweet Chili Sauce

1 Carrot

2 Potatoes (Select)
Recipe
Prepare Burger Ingredients:
Preheat oven to 200°C. Drain and rinse the chickpeas. Zest the lemon. Juice lemon. Small dice ¼ of the onion, thinly slice the remainder.
Prepare Chickpea Burgers:
In a food processor or with a stick blender, add the coriander stems and mince. Add the 3/4 chickpeas you'll have leftover, lemon zest, lemon juice, cumin, half the coriander leaves and the egg. Pulse to combine but leave some chunks. Season well with salt and pepper. Gently add and mix half of the breadcrumbs and the diced onions. Form into 2 burgers of equal size and thickness, then press remaining breadcrumbs onto both sides and add to a lined baking tray. Drizzled with the oil if desired and bake them in the oven for about 25 minutes.
Roast Potatoes & Burgers:
Cut the potatoes into 1 cm wedges. Drizzle with olive oil and season with salt and pepper. Add to a lined baking tray and roast, about 25 minutes, or until golden and cooked through.
Prepare Toppings:
In the meantime, thinly slice the tomato and cucumber. Grate carrot.
You Plate It:
If desired, toast the hamburger buns for 2 minutes. To serve, slice each hamburger bun and fill with tomato slices, a chickpea burger, a dollop of sweet chili sauce a few red onion slices, some cucumber slices, grated carrot and the remaining coriander leaves. Serve with potato wedges on the side. Enjoy!