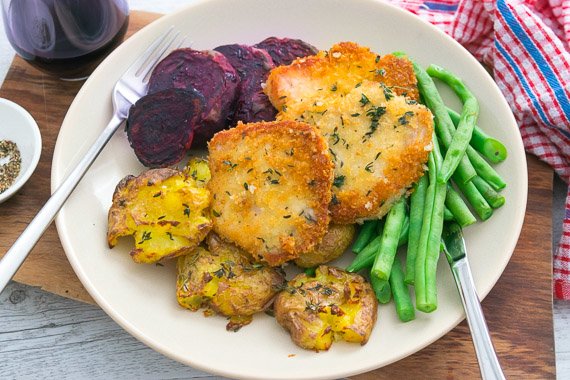 Thyme Crusted Pork Schnitzel with Smashed Potatoes, Beets & Green Beans
Prep time: 35
Calories: 780
Crispy pork schnitzel pair perfectly with roast smashed potatoes and beetroot. Drizzled with oil and a little thyme, smashed potatoes roast to create a delicious combination of a crispy shell and a soft inside. For the schnitzel, the simple mixture of butter and breadcrumbs is a combination popular throughout Germany and is a recipe we love for its simplicity. Happy cooking.
Ingredients
300 Grams of Chat Potatoes

1 Small Bunch of Thyme

0.75 Cups of Panko Bread Crumbs

4 Pork Medallions

2 Tablespoons of Butter (pantry)

200 Grams of Green Beans

2 Red Beetroot
Recipe
Prepare Smashed Potatoes:
Preheat oven to 220°C. Prick a hole into each potato and steam until softish but not extremely soft. We cooked them in a covered bowl in the microwave on HIGH with an inch of water for 10 minutes.
Make Crumb:
In the meantime, remove the thyme leaves, discarding stems. In a bowl add half the thyme leaves, panko bread crumbs, salt and pepper. Mix to combine. Bring a large pot of water to a boil over high heat (step 5).
Roast Smashed Potatoes & Beets:
Peel and slice beetroot into 1 cm think slices and place on a lined baking tray. Once steamed, drain the potatoes and add to the lined baking tray. Using a potato masher, gently push down onto the potatoes so that they collapse but still keep their shape at the bottom. Drizzle with oil and remaining thyme then bake on the top shelf of the oven for 15 to 20 minutes until the potatoes are golden and the bottoms are crispy and the beetroot is cooked through.
Crumb & Shallow Fry Pork:
In a bowl, microwave butter in 15-second intervals until completely melted. While still in the pack, smash the pork lightly with a rolling pin to 1 cm thickness. Pat dry the pork with paper towel. Dip the pork into the melted butter and then press into the crumb mixture. Heat plenty of oil (up to 1 cm) in a large non-stick pan over medium heat. Add the crumbed pork and cook, for about 2 minutes each side or until golden and cooked through. Set aside on paper towel.
Blanch Green Beans:
Trim the ends off the green beans. Add a generous pinch of salt and green beans to the boiling water. Cook until bright green and just tender, about 2 minutes (or to your preferred doneness). Drain and season with salt and pepper. Add extra butter if desired.
You Plate It:
Divide pork schnitzel between plates. Serve with the smashed potatoes and green beans. Enjoy!