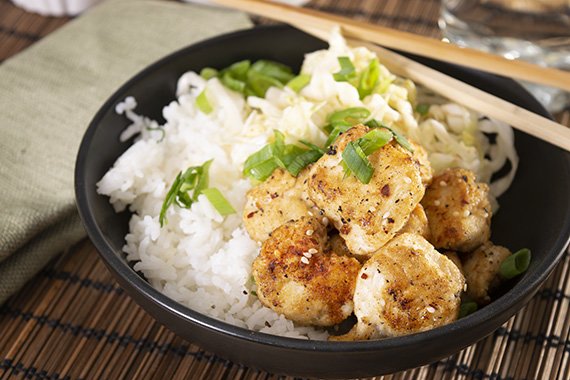 Togarashi Popcorn Chicken with Sweet Chili Slaw & Rice
Prep time:

15

minutes

Calories: 496
This take on crowd-pleasing popcorn chicken is elevated with a few Japanese twists. Traditional togarashi-style seasoning adds crunch and spice to our chicken. You can control the heat by adding as much or as little as you want. Perfect for dipping in a savoury - sweet tonkatsu mayonnaise. Tip: For easier clean up, you can use a large resealable bag to coat your chicken in the seasonings.
Ingredients
2 Chicken Breast

0.5 Cups of Jasmine Rice

0.125 Green Cabbage

2 Spring Onion

0.25 Cups of Cornflour

3 Tablespoons of Sweet Chili Sauce

1 Tablespoons of Rice Vinegar

3 Tablespoons of Tonkatsu Mayo

1 Tablespoons of Togarashi-Sesame Spice Blend

1 Red Capsicum (Small)
Recipe
Cook Rice:
In a medium pot, bring 1⅓ cup water to a boil. Stir in the rice; cover and reduce the heat to low. Simmer for 15 minutes until all of the water is absorbed. Taste the rice; if it is still too firm, add a few more tablespoons of water. Cover the pot and let the rice absorb the water off of the heat. Fluff the finished rice with a fork.
Prepare Ingredients:
Wash the fresh produce. Remove core of the cabbage and slice thinly. Thinly slice spring onions on an angle, separating the white ends from the green tops. De-seed capsicum and thinly slice. Pat dry chicken with paper towel and cut into bite size pieces. (Note: we have added in some red capsicum for extra crunch as a suggestion from a customer - that's why the capsicum is not pictured).
Cook Chicken:
In a bowl (or a large resealable bag), combine cornflour and half the togarashi spice mix (or less to taste - this spice mix is pretty hot). Add chicken to the flour mixture and toss to coat. Heat olive oil in a pan (enough to cover base) over medium-high heat. Add the coated chicken (shake off any excess flour) in an even layer and cook for 3-4 minutes, until lightly browned. Continue to cook, stirring occasionally, until chicken is cooked through. Transfer chicken to a paper towel-lined plate and season with salt and pepper and as much of the remaining togarashi spice as you wish. (Tip: if you are serving to kids or those who don't like spice maybe season separately).
Prepare Slaw:
While the chicken is cooking, prepare the slaw. In a bowl combine the sliced cabbage, white spring onion ends, capsicum strips, sweet chili sauce and rice vinegar. Season with salt and pepper and mix well.
You Plate It:
Divide rice and slaw between bowls and top with chicken. Garnish with green ends of the spring onion. Serve with tonkatsu mayo on the side. Enjoy!