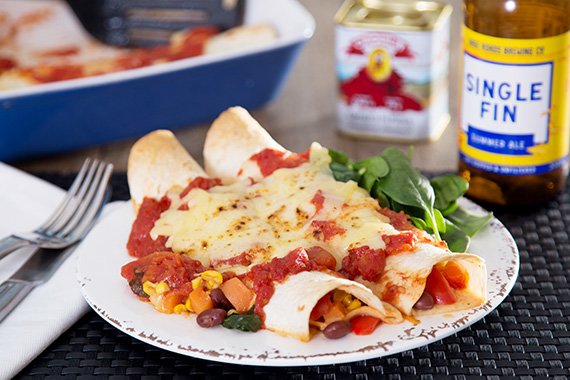 Vegetarian Enchiladas with Grilled Tasty Cheese
Prep time: 40
Calories: 750
You may have guessed that we love the flavours of traditional Mexican food. One of the best mid-week meals is enchiladas - stuffed tortillas covered with sauce and baked. Their fillings can include almost anything from beans and cheese to vegetables or meat - this one is veg packed full of goodness with some beans for protein. Share the moment #youplateit on Instagram.
Ingredients
1 400 Gram Pack of Diced Tomatoes with Mixed Herbs

1 Carrot

1 Red Capsicum

2 Garlic Clove

1 125 Gram Pack of Red Kidney Beans

1 75 Gram Pack of Baby Spinach

1 Cups of Tasty Cheese (grated)

1 6-Pack of Flour Tortillas

1 Sweet Corn Cob

1 Teaspoons of Cumin & Smoked Paprika
Recipe
Make Sauce:
Preheat oven to 205°C. Add tomatoes to a pot over medium high heat and bring to a simmer. Cook until sauce has thickened slightly, about 10 minutes. Taste and add salt and pepper as needed. Remove from heat and set aside.
Prepare Ingredients:
Wash the fresh produce. Cut carrot and capsicum and cut into ½-1 cm dice. Peel and mince garlic. Remove husk and silks from corn and discard. Holding the corn cob upright on the cutting board, cut downwards to remove corn kernels. Drain and rinse the beans.
Cook Filling:
Heat olive oil in a medium pan over medium heat. When oil is shimmering, add garlic and cook until fragrant, about 1 minute. Add carrot, capsicum, corn and cumin/smoked paprika and cook until slightly tender when pierced with a fork, about 10 minutes. Add a handful of spinach and cook until wilted, about 2 minutes. Remove pan from heat and stir in beans, and ½ of the cheese. Taste and add salt and pepper as needed.
Assemble Enchiladas:
Spread ½ the sauce around bottom of a ovenproof pan (or 2 if necessary). Divide filling into each tortilla and roll up. Place seam side down in pan. Pour over remaining sauce, then sprinkle over remaining cheese.
Bake Enchiladas:
Place pan in oven and bake enchiladas until sauce is bubbling and cheese is melted, about 15 minutes.
You Plate It:
Remove pan from oven and allow to cool for 5 minutes. Divide enchiladas between plates with remaining spinach and serve immediately. Enjoy!