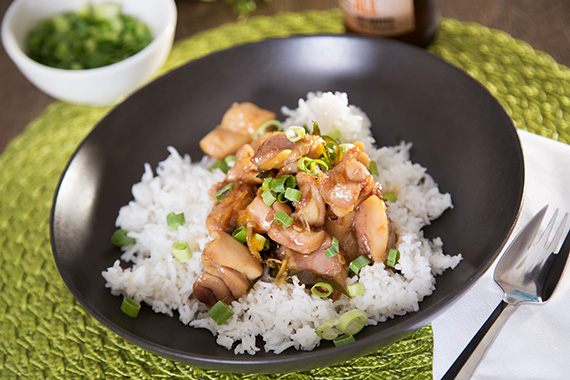 Vietnamese Caramel Chicken with Jasmine Rice
Prep time:

15

minutes

Calories: 780
This is bound to become a favourite in your household, as it has in ours. Simple, quick and oh so tasty! The caramel has a wonderful tang from the fish sauce and vinegar, and the sweetness from the palm sugar is just a little bit of indulgence for a week night. We hope you enjoy it as much as we do. Share your plate on Instagram #youplateit.
Ingredients
3 Chicken Thighs (skinless)

3 Spring Onion

1 Ginger

1 Green Chili

100 Grams of Palm Sugar

65 Grams of Fish Sauce

1 Tablespoons of Rice Vinegar

0.75 Cups of Jasmine Rice
Recipe
Cook Rice:
In a pot, bring 1⅓ cup water to a boil. Stir in the rice; cover and reduce the heat to low. Simmer for 15 minutes until all of the water is absorbed. Taste the rice; if it is still too firm, add a few more tablespoons of water. Cover the pot and let the rice absorb the water off of the heat. Fluff the finished rice with a fork.
Prepare Ingredients:
Wash the fresh produce. Peel and julienne ginger. julienne: cut into long thin strips, similar to matchsticks. Thinly slice spring onions. Cut chili in half lengthwise and thinly slice. Pat dry chicken with paper towel and cut into bite size pieces.
Make Caramel:
Place palm sugar in a microwave safe bowl and melt in microwave we did ours for 45 sec. When the sugar is melted and bubbling, add fish sauce slowly whilst stirring. It may bubble up a bit, so be careful. Add rice vinegar and combine well.
Cook Chicken:
Heat oil in a pan on medium high heat. Add ginger, chili and spring onions reserving some for garnish and cook for 2 minutes. Add chicken and brown all over, about 5 minutes.
Simmer Sauce:
Add caramel sauce to the pan and bring to the boil. Reduce heat and simmer for 10-12 minutes, until chicken is cooked and sauce has thickened slightly.
You Plate It
Divide rice between bowls. Top with chicken and sauce, then garnish with reserved spring onion. Try not to lick the pan, enjoy!