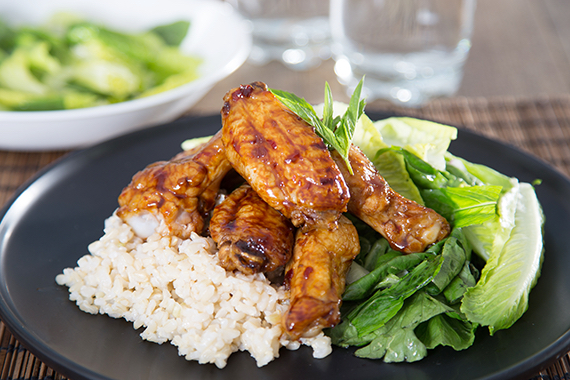 Vietnamese Chicken Wings
Prep time: 35
Calories: 605
Chicken wings are an amazing base on which to build flavours and finger-licking goodness. They have a large surface area to collect sauce and the perfect balance of meat and crispy skin. In this recipe you will coat the wings in a sauce that blends flavours from South-East Asia and England. Fun fact: The term "Buffalo Wings" is named after the town where the dish was invented in New York state. Enjoy!
Ingredients
600 Grams of Chicken Wings

0.5 Cups of Brown Rice

1 Baby Cos Lettuce

1 Lime

1 Small Bunch of Mint

6 Tablespoons of YPI Chicken Wing Sauce

1 Shallot

1 Tablespoons of Sambal Oelek
Recipe
Cook Rice:
Preheat the oven to 200°C. In a medium pot, combine the rice, a big pinch of salt and 1½ cups of water. Heat to boiling on high. Once boiling, cover and reduce the heat to low. Simmer 28 to 30 minutes, or until the water has been absorbed and the rice is tender. Once cooked, remove from heat and stir in the lime zest prepared in step 3. Season with salt and pepper to taste. Set aside.
Cook Chicken:
Line a baking tray with foil. Pat dry chicken wings with paper towel and place on the lined baking tray. Drizzle with oil and season with salt and pepper; toss to thoroughly coat. Arrange in a single, even layer and roast 22 to 24 minutes, or until lightly browned and cooked through. Remove from the oven and set aside in a warm place, leaving the oven on.
Prepare Ingredients & Make Sauce:
While the wings roasts, wash the fresh produce. Cut off and discard the root end of the lettuce. Pick the mint leaves; discarding stems. Zest the lime. Halve the lime and juice into a small bowl. Peel and small dice the shallot to get 2 tablespoons; add to the bowl with the lime juice. In a separate bowl, combine the chicken wing sauce and as much of the sambal oelek as you'd like, depending on how spicy you'd like the dish to be.
Make Vinaigrette:
While the rice cooks, season the shallot-lime juice mixture with salt and pepper to taste. Slowly whisk in 2 tablespoons of olive oil until well combined.
Coat & Finish Chicken:
Transfer the roasted chicken wings to a large bowl. Add half the sauce; toss to thoroughly coat. Return to the foil-lined tray and arrange in a single, even layer. Roast 5 to 10 minutes, or until browned. Remove from the oven. Top with the remaining sauce.
You Plate It:
Place the lettuce and mint in a large bowl; season with salt and pepper. Add enough of the vinaigrette to coat the salad you may have extra vinaigrette; toss to mix and season with salt and pepper to taste. Divide the finished chicken wings, cooked rice and salad between plates. Garnish with some mint. Enjoy!