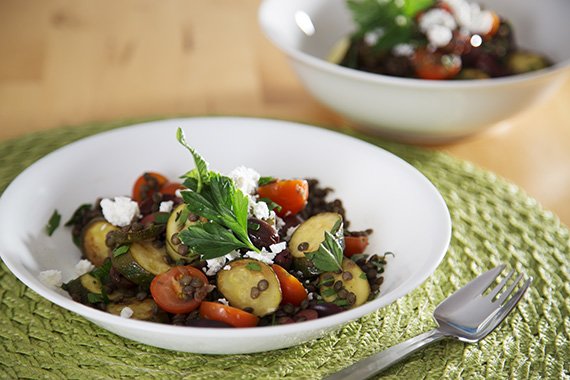 Warm Lentil Salad with Fetta & Olives
Prep time: 30
Calories: 350
Lentils are a wonderful legume - relatively quick to cook and some amazing health benefits. High in dietary fibre and protein with almost no fat, they are a great addition to a salad for a protein boost. In this recipe, you will add some herbs to help impart some flavour whilst cooking. Just remember to keep the lentils at a gentle simmer whilst cooking to avoid splitting, and they'll retain a great shape and texture. Enjoy with some fresh veggies and tangy olives in this nutritious salad!
Ingredients
0.5 Cups of Black Beluga Lentils

3 Baby Zucchini

120 Grams of Grape Tomatoes

1 Small Bunch of Flatleaf Parsley

1 Small Bunch of Basil

1 Lemon

0.5 Cups of Kalamata Olives (pitted)

50 Grams of Danish Fetta

1 Bay Leaves
Recipe
Prepare Lentils:
Wash the fresh produce. Place lentils into a colander or sieve and rinse under cold water, until the water runs clear.
Cook Lentils:
Place lentils in a medium sized pot and add 1 cup of water. Season with salt, pepper, bay leaf and parsley stalks (trim stalks to fit pot and reserve leaves for salad). Cover and bring to a simmer. Continue to cook over a low heat, stirring occasionally until tender but not mushy - about 25 minutes. (Tip: Keep lentils at a gentle simmer to avoid splitting).
Cook Zucchini:
Whilst lentils are cooking, prepare zucchini. Slice on an angle into 1 cm pieces. Over medium heat, heat oil in a small pan. When the oil starts to shimmer, add zucchini and a squeeze of lemon. Sauté for 3-5 minutes, until tender. Set aside in pan once cooked, saving juices for step 4.
Prepare Ingredients:
Cut tomatoes and olives in half. Pick parsley and basil leaves (reserving some for garnish) and roughly chop. Place drained lentils (discarding parsley stalks and bay leaf) in a bowl with tomatoes and olives. Add zucchini, pan juices, parsley and basil and combine. Season with salt and pepper to taste.
You Plate It:
Divide lentil salad between plates and top with crumbled fetta. Top with reserved basil and parsley to garnish. Enjoy!