Description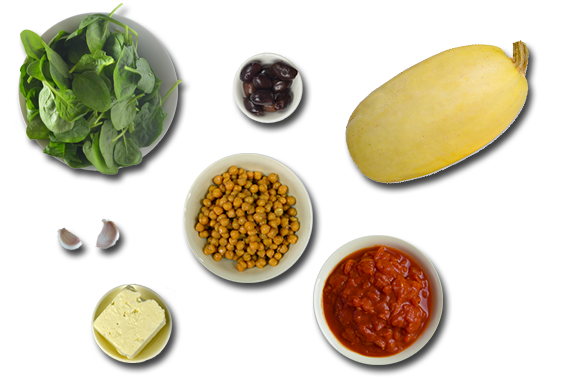 Ingredients
0.5 Spaghetti Squash
0.25 Cups Kalamata Olives (pitted)
1 400 Gram Pack Chickpeas
2 Cups Baby Spinach
2 Garlic Clove
1 400 Gram Pack Diced Tomatoes
0.3 Cups Fetta Cheese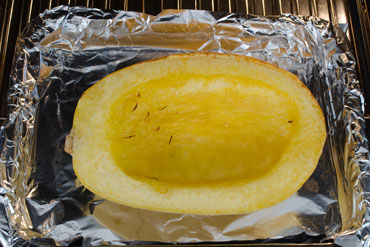 Prepare Ingredients:
Preheat oven to 230°C. Scoop out seeds and pulp then discard. Drizzle over 1 tablespoon olive oil and season with salt and pepper. Place on a foil-lined baking tray, cut side up, and roast until tender, about 25-30 minutes. Meanwhile, roughly chop Kalamata olives. Drain chickpeas. Wash spinach. Peel and mince garlic.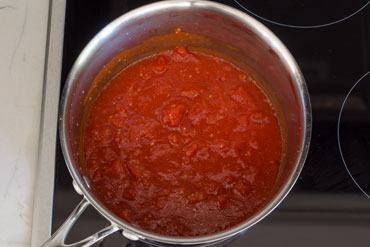 Make Sauce:
Heat 1 tablespoon olive oil in a large pan (or pot) over medium-high heat. When oil is shimmering, add minced garlic and cook until fragrant, 1-2 minutes. Add tomatoes and bring to a boil over high heat. Then reduce heat to medium-low and simmer for 10 minutes.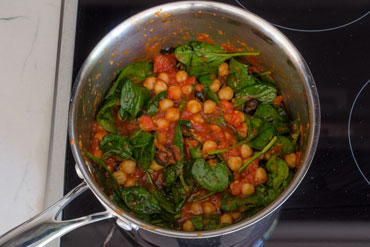 Finish Sauce:
Add chopped Kalamata olives, chickpeas, and spinach to sauce in pan and stir to combine. Simmer 5 minutes more. Taste and add salt and pepper as needed.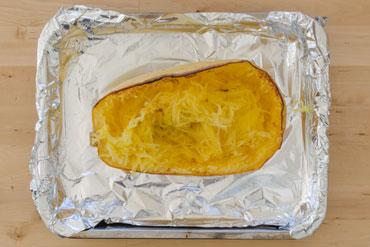 Finish Spaghetti Squash:
Remove spaghetti squash from oven and set aside until cool enough to handle, about 5 minutes. Use a fork to scrape across squash to form noodles.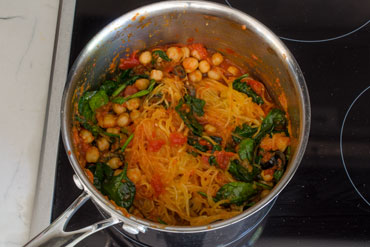 Sauté Spaghetti Squash:
Add spaghetti squash to the sauce. Crumble fetta, add all but 2 teaspoons of fetta to the sauce. Stir to combine, then remove pan from heat.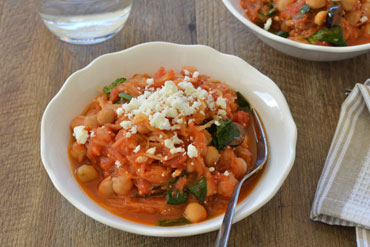 You Plate It:
Divide spaghetti squash and sauce evenly between bowls. Sprinkle over remaining fetta. Enjoy!