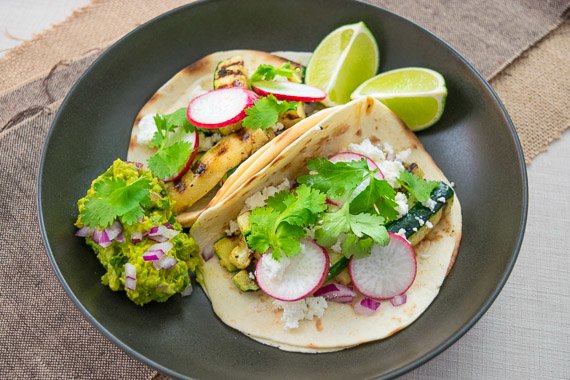 Zucchini & Fetta Tacos with Fresh Guacamole & Lime
Prep time:

30

minutes

Calories: 670
It's no secret we love Mexican cuisine and the unique mix of European and local flavours it delivers to fresh produce. Here you will prepare a quick and tasty taco dish. This recipe uses zucchini, which in Mexico goes by the name 'calabacin'. We can't resist the way it compliments fresh guacamole. Share the moment you plate it on Instagram or Facebook #youplateit
Ingredients
60 Grams of Fetta Cheese

2 Radish

1 Small Bunch of Coriander

1 Garlic Clove

1 Lime

2 Zucchini

1 Red Onion

1 Avocado (small)

1 6-Pack of Flour Tortillas
Recipe
Prepare Ingredients:
Wash the fresh produce. Crumble the fetta. Thinly slice the radishes and place in a bowl of cold water. Pick the coriander leaves; roughly chop. Peel and mince the garlic; using the flat side of your knife, smash until it resembles a paste. Cut the lime into quarters. Cut the zucchinis in half crosswise, then lengthwise into 1 cm spears. Peel and small dice the red onion.
Marinate Zucchini:
In a large bowl, combine the zucchini, and half of both the garlic paste and the red onion. Add a pinch of coriander leaves. Drizzle with olive oil, season with salt and pepper and toss to combine. Set aside to marinate. If you want to use your BBQ, preheat now (use grill section if you have one).
Make Guacamole:
Cut the avocado in half and remove the stone. Using a spoon, scoop out the avocado into a medium bowl. Using a fork, mash the avocado with the juice of 2 lime wedges until smooth. Stir in the remaining garlic paste, half the coriander and as much of the remaining red onion as you'd like (you may have extra). Season with salt and pepper to taste and set aside as you continue cooking.
Grill Zucchini:
If using a stovetop pan, heat on medium-high. BBQ or cook the marinated zucchini 3 to 5 minutes per side, or until grill marks appear and the zucchini is tender. Transfer the grilled zucchini to a plate.
Warm Tortillas:
Place the tortillas on the BBQ or pan for 30 seconds to 1 minute per side, or until soft and warmed through (alternatively microwave as per pack directions).
You Plate It:
Fill tacos with the grilled zucchini, guacamole, radishes and fetta. Garnish with the remaining coriander and lime wedges. Enjoy!