Spaghetti squash is a paleo friendly, low carb and gluten free noodle alternative. We source ours from a local farm near Manjimup. Because it has mild flavour we recommend enjoying it with a flavourful sauce or soup – the team loved it with feta, chickpeas, and wilted spinach. Although popular in North America for many years, it remains relatively unknown in Australian kitchens.
The middle contains many large seeds, and its flesh is bright yellow (almost orange) in colour. When raw, the flesh is solid and similar to other raw squash. When cooked, however, the flesh falls away from the sides in strands and looks remarkably similar to spaghetti or vermicelli noodles.
We believe in providing quality, fresh local produce; so our spaghetti squash is sourced from WA grower Alexis, who with her husband Kim, grows spaghetti squash near Manjimup in WA's Southern Forests region. The pair also run the Diamond Tree Angus Stud and the Diamond Tree Farm Stay (a great place for a cheeky getaway).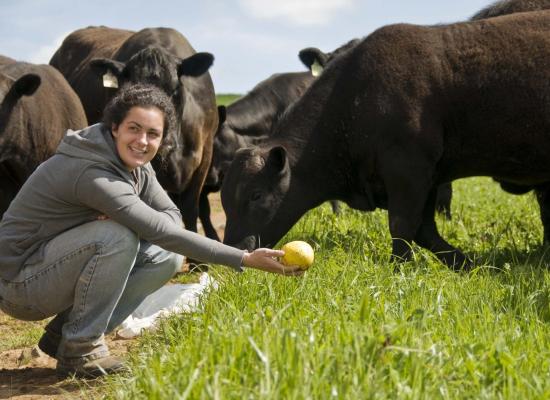 Alexis on her farm near Manjimup, WA.